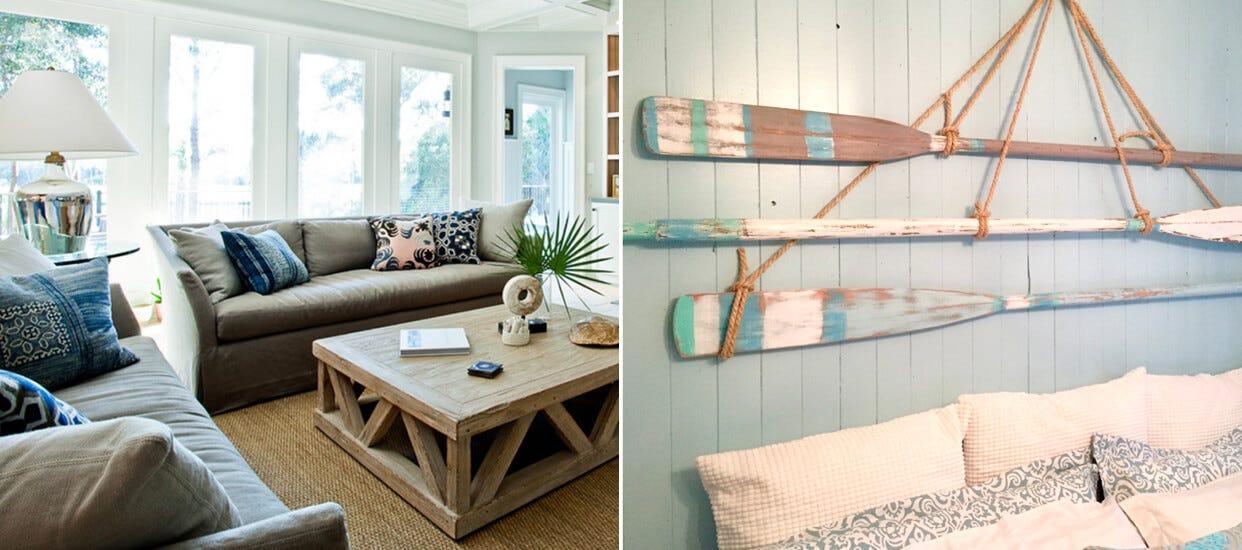 Boathouse Style
Summer is all about getting outside in the sun and enjoying the heat, and in Australia the best place to be during summer is beachside. Boathouse style encompasses a colour and texture palette traditionally used in seaside locations. This can include oars, shiplap (otherwise known as VJ panel), colours such as deep navy, crisp white, greyed timber, chalky blacks and aged oaks, all combining to create a distinctly nautical feel.
Forget star fish and dolphin ornaments, that's not the feeling of boathouse style. Motifs of boating from ships to anchors, oars, mariner's rope and portholes are a better fit and will add a décor level to your boathouse feel that's appropriate and interesting.
VJ panel is a great starting point for the boathouse style. Lining walls and ceilings can create a great background pattern that can be painted in any number of ways. You can create dido level colour changes, with a two-tone colour effect, by running your VJ panel with the V line running horizontally (parallel to the ground) which will create the illusion of more width in a narrow room. Alternatively, you could spin the panels around 90 degrees for the V line to run vertically, which creates the illusion of height. Painted VJ board (such as Easy Craft's Easy VJ) works well as a boathouse style, bedhead feature wall, looks great as a backing board behind shelving or adds the appropriate nautical feeling to walls and ceilings.
Brass is the perfect accent for the boathouse style. Accessories such as hurricane lanterns and boat inspired décor are perfect when worked into boathouse style vignettes.
Get the Carpet Court Look
Laminate Classic in Moonlight Oak Light
Timber Premium Oak in Kilimanjaro
Timber Premium Oak in Arctic White
Darren Palmer | Sorrel Bath Towel Range in Navy | Myer 
Darren Palmer | Mallow Cushion | Myer 
Australian House & Garden | Bronte Glass Fishing Float | Myer