Advancements in technology and manufacturing mean that synthetic carpets no longer take a back seat to wool. While wool has natural stain and moisture resistance, many synthetic carpets are actually better in that regard because of improved manufacturing processes. Synthetic nylon carpet can have as many long term benefits as wool carpet and in the right environment they can be just as durable. Because of their affordability, nylon is often the preferred carpet fibre for many Australian homes.
Items 17-28 of 28 View All
Page
You're currently reading page

2
Items 17-28 of 28 View All
Page
You're currently reading page

2
What are the benefits of nylon fibre carpet?
Nylon is rated highly when it comes to wear and tear, which is why it comes with excellent warranty terms. Nylon has good elasticity and resilience, so it can stand up to heavy traffic and will retain its shape under the weight of furniture or foot traffic. Nylon is also easy to clean and will dry quickly.
Carpet Court's nylon carpets are mostly manufactured using a technique called 'solution dyed nylon' or SDN. SDN carpets are extremely colourfast and fade resistant while having superior anti–stain properties. They are anti-static and have excellent memory so the fibres hold their shape for longer. These factors make nylon carpets a popular choice in family homes.
Are nylon carpets good for high traffic areas?
Nylon carpets are known for their resiliency and elasticity so they will retain their shape under stresses such as crushing or stretching. In high traffic areas and areas where furniture may be moved around, these are important qualities in a carpet.
One of Carpet Court's popular synthetic nylon carpets known as Virtuosity is made from solution dyed nylon Permasoft Plus yarn. This yarn has excellent memory, meaning it will bounce back easily after impact from foot traffic or furniture. Permasoft Plus yarn is super soft but has enough resiliency to retain its shape and hold onto its stunning looks year after year. Virtuosity has a sophisticated appearance while the nylon construction means it is both hardwearing yet incredibly forgiving underfoot.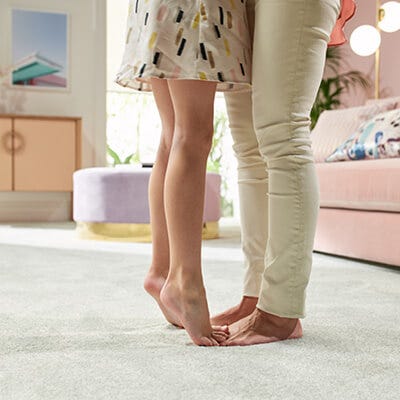 Are nylon carpets durable?
When we think of durability in carpets we think of long-lasting performance in respect of stain and fading resistance, and resilience in the carpet fibres when it comes to wear and tear. Because of innovative manufacturing processes, nylon carpets are highly competitive with all other fibres with regard to performance.
One of the biggest selling nylon carpet types is solution dyed nylon (SDN). This product is manufactured to be colourfast and highly resistant to fading. It is also extremely wear-resistant and so it will outperform many carpet types with respect to durability.
Many of Carpet Court's top brand synthetic nylon carpets come with extensive performance warranties from leading carpet manufacturers such as Beaulieu and Redbook. Designed to be highly resistant to spills, fading, wear and tear and impact, our SDN carpets will continue to look great for many years.
Are nylon carpets stain resistant?
Solution dyed nylon carpets are manufactured with superior anti–stain properties. Because of the unique colourfast dying techniques used, SDN carpets are extremely fade resistant too.
Your lush new carpet will come with a manufacturer's warranty and care guide. Consult this carpet care guide for information on spot cleaning and long term regular care and cleaning of your carpet. You can also find helpful information from Carpet Court about caring for your carpet here.
Nylon carpets such as the Antilles Twist collection made by leading brand Godfrey Hirst are manufactured using innovative treatments to protect against staining and soiling.
ActiveCare® is a complex molecular bonding process which occurs during manufacture, in order to neutralise the negative effects of organic molecules in the atmosphere such as gases as well as liquid spills, helping to preserve the carpet's pristine good looks.
Are nylon fibre carpets affordable?
Many factors make up the cost of a carpet so it is best to obtain a free, in-home measure and quote to get an accurate assessment of the cost of carpeting your home.
The fibre is certainly one cost factor, and nylon fibre carpets are often chosen by Australian families because of their affordability. Even within the synthetic carpet range, you will find variances in price. Some of our nylon carpets are in our low range budget category, such as the textured loop stunner we call Audition, which always makes the cut.
First Avenue is a luxurious, plain twist pile carpet made from premium solution dyed nylon. It comes in eleven cutting edge shades perfect for contemporary homes. First Avenue is a nylon carpet with amazing performance, set in our mid-range price structure.
Affordability is certainly a major consideration when choosing your new carpet, but with so many variations in carpet types it is best to determine the right carpet to suit your needs and then find one with those properties within your price range.
Phone 1300 CARPET for a free, in-home measure and quote today.