Introducing ECONYL® regenerated nylon - Endless possibilities. ECONYL® regenerated nylon is 100% recycled yarn made from nylon waste such as old carpets, fabric scraps and fishing nets. Through the regeneration process, ECONYL® yarn never loses its virgin qualities which means it can be recycled an infinite amount of times, making it a perfect sustainable fibre solution.
RESCUE. REGENERATE. REMAKE. REIMAGINE.
stay in the loop, SIGN UP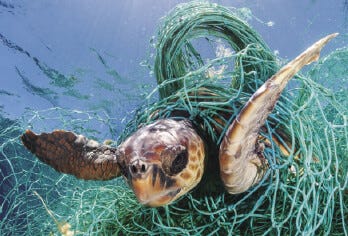 The ECONYL® regeneration system starts with rescuing waste, like old carpets, fishing nets, fabric scraps and industrial plastic that would otherwise pollute the Earth. That waste is then sorted and cleaned to recover all of the nylon possible.
Through a radical regeneration and purification process, the nylon waste is recycled right back to its original purity. That means ECONYL® regenerated nylon is exactly the same as virgin nylon.

ECONYL® regenerated nylon is processed into carpet yarn and textile yarn for the fashion and interior industries.

The beauty of ECONYL® regenerated nylon is that it has the potential to be recycled infinitely, without ever losing its quality. We believe circular design is the future and using ECONYL® is our first step on that journey.
What is the difference between a carpet made with ECONYL® yarn and any other carpet?


The difference is that carpet made with ECONYL® regenerated nylon is made with a special yarn obtained from the regeneration of pre and post-consumer waste such as old carpets, fishing nets and fabric scraps. We have woven these ECONYL® yarns to create eight beautiful carpet ranges to choose from, all with the same look, feel, performance and on trend styles as you would get in nylon sourced from petroleum.


These eco-friendly ranges have all the attributes that you would be looking for in a carpet. Choose from three soft feel twist pile ranges in a great array of colours or move up to our more luxuriously soft touch collection, two carpet ranges you can really sink your toes into. Or if a modern textured loop is what you are after, we have created three high performing ranges all in on trend colours for you to select from.
Combining exceptional quality and a textured loop design, Expanse is Australian made using ECONYL® regenerated nylon known to provide durability and it is less harmful to the environment. The ECONYL® regenerative fibres are allergen filtering, UV and fade resistant, and not susceptible to shading or tracking. Available in a range of eight opulent neutrals, creating the perfect foundation for luxurious interiors.


There are two additional ECONYL® regenerated nylon ranges in our textured collection, in Genesis and Frontier, each with their own pallet of on trend colours to suit any interior.


Designed with a pop of colour amidst a neutral, organic palette, Genesis creates a flexible foundation for a wide range of modern interior themes and furnishings, as well as complementing popular hard flooring options. Select from eight contemporary shades that are both classic and practical at concealing dirt and soiling.


The textured loop pile of this affordable carpet makes Frontier both cosy and practical. Designed with durability in mind for a busy urban lifestyle, Frontier is suited to the busiest areas of your home. Cost effective and hardwearing, this eco carpet is perfect for families.
Providing you with a soft to touch carpet, made from eco-friendly yarn that does not compromise on quality, Origins balances durability and supreme comfort. This lush carpet is UV and fade resistant, allergen filtering and resists long-term crushing from high foot traffic.

This Premium Soft collection retains all the features of traditional Solution Dyed Nylon, with the dense yarns creating an exceptionally elegant carpet. These yarns are also hydrophobic, repelling spills and providing stain protection. This makes Origins an excellent option for active households where accidents happen. Select from a range of classic carpet colours and use this collection to create a warm and welcoming space.


Rounding out the Premium soft collection is the luxuriously soft Source range available in a large palette of natural carpet colours, encouraging you to create your own private oasis within your home.


If you are looking for high performance whilst still maintaining a luxurious feel, then check out our Performance Collection. Awaken, Inception and Provenance are perfect for those busy areas of your home. The yarns in these ranges are individually twisted to create a carpet that is exceptionally durable and resilient, allowing you to achieve low maintenance luxury.
Check your local store to touch and feel our new ECONYL® regenerated nylon range of carpets which are currently being rolled out across Australia.