Euro Retro
Get inspired by the Euro Retro Trend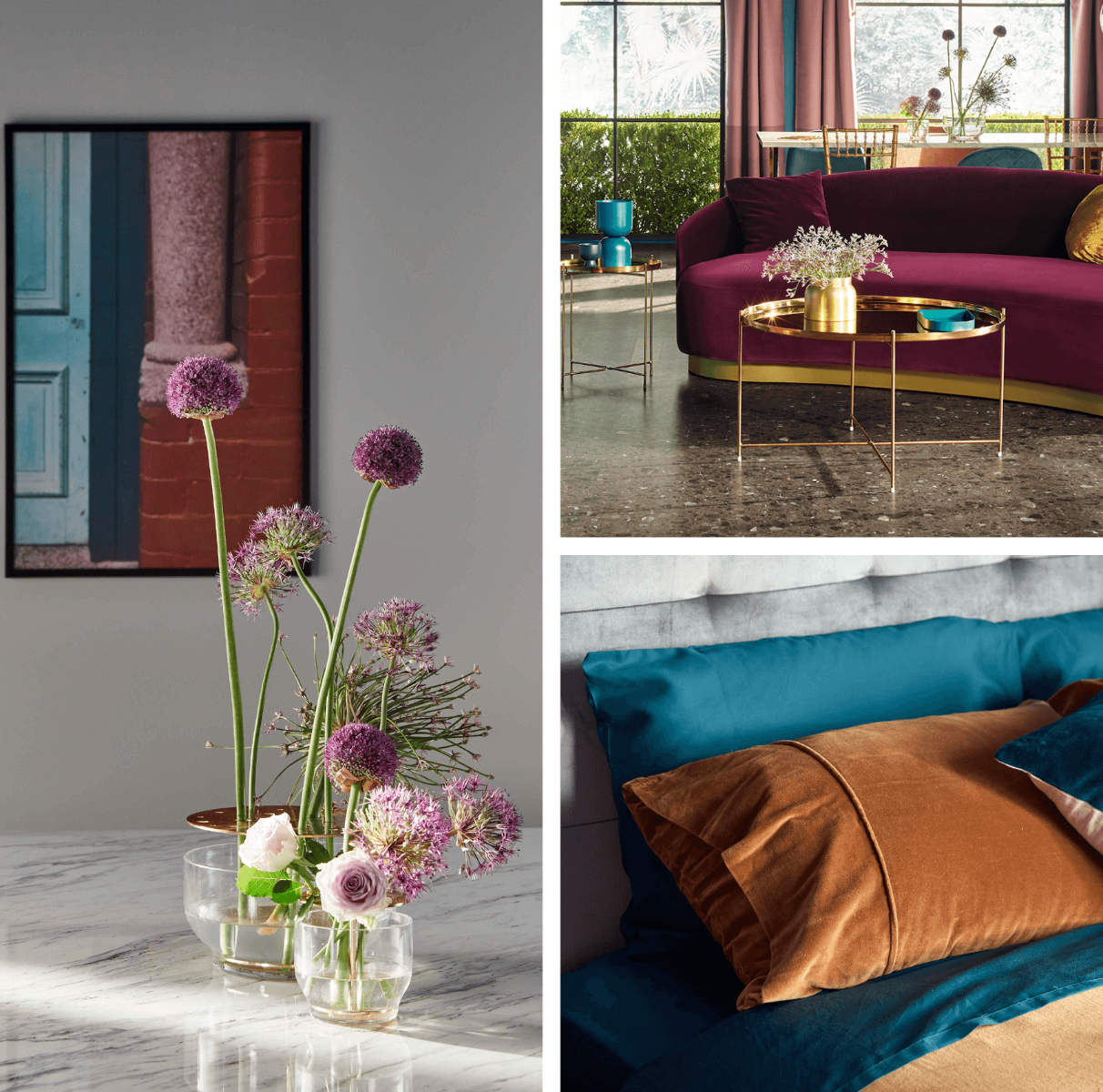 European design has always represented the epitome of style, luxury and craftsmanship. From the renaissance through to the 1970s and even today, the world has always looked to 'the continent' for inspiration and design leadership. All of the most famous designer fashion houses generally hail from Europe and set the trend ahead for fashion & interiors well before the rest of the world embraces them.
The Euro Retro is inspired by our ongoing love affair with art deco and mid-century styling. It features many of the hallmarks of designs from these periods, including furniture with exaggerated curves, statement lighting, terrazzo flooring and touches of bling. But it's brought up-to-date with minimalist detailing and a careful approach to colour.
Get the Euro Retro Look
The Euro Retro look is wildly glamourous and luxurious. The hallmarks of this look are a rich colour palette of jewel-like tones like teal, aubergine, peacock blue, amber and pale gold. Coloured glassware is featured in light fittings, vases, tableware and ornaments. Furniture features opulent marble finishes, and gold or brass embellishments. Walls are adorned with ornate timber mouldings, and floors feature that retro Italian favourite stone composite, terrazzo.
Opulent colours have long been associated with wealth and prestige – think of royal blue, regal purple, etc. We have seen so many beautiful pale and neutral interiors in recent years and people are yearning for a chance to create interiors with a bit more self-expression and eclecticism. These rich tones can add so much to a room by way of creating drama and mood.
The key to success with this look is not to over-do it with the colours. Limit your primary palette to three or four hues. Then, select furniture and accessories in curvy, retro shapes – from sofas and armchairs to a striking arc floor lamp. Don't be afraid to mix and match furniture items of the same genre (e.g. dining chairs) to create that little bit of eclecticism for even more personality.
How to complement the Euro Retro Trend
Carpet Court's Elements Hybrid Tiles in Bronze feature in the lounge room and dining room. Bringing an opulent feel into the space, however provides an affordable option for the Terrazzo look. A plush City Modern rug was used to delineate the dining space with an organic pattern that picks up on the blue walls.
Carpet Court's incredibly soft twist pile 'Passionate' in Celeste is perfect for the bedroom. The rich colour, complementing the gold tones, rich amethyst walls and petrolblue detailing brightens and opens up the space.
The Euro Retro trend is all about decadence with velvet drapery and Carpet Court's Duo Screen roller blinds in Charcoal Slate, to give versatility, light control and privacy to the space.
This is a modern trend that draws on historical design elements. The Euro Retro look lends itself to both an older style or a more contemporary home. If you're willing to commit to adding a little drama to your interiors, it's all about your bravery with palette and material choices.
Styling tips for Euro Retro
Brilliant gold detailing on furniture and accent pieces
A palette of rich hues in jewel tones
Luxurious velvet upholstery in Retro European shapes
Terrazzo-like flooring
Plush rugs and carpets
Coloured glassware, vases & vessels
Old fashioned screens for visual interest and added privacy
Get the Carpet Court Look