With so many modern and stylish flooring options available, how do you choose the best new floors for your home or business? Follow our buying guide to choosing floors which won't just look fantastic but will provide resale value and optimum performance in your environment and conditions.


HOW TO CHOOSE THE RIGHT FLOORING



When you make the right flooring choice you'll discover your new floors add beautiful style, fabulous functionality and considerable value to your home. Carpet Court's stunning range includes:
Timber flooring
Hybrid flooring
Laminate flooring
Vinyl flooring
So what should you do to determine which of those is the right flooring for your home or business?
1. Consider your budget
With the number of flooring options from a variety of leading brands available from Carpet Court, it's easy to find stylish engineered wood, hybrid, laminate or vinyl flooringoptions that won't break the bank.
2. Assess your lifestyle
Choose the right flooring materials to suit your lifestyle.

If you have an active family home or you'd like the same floor throughout the entire home, water-resistant flooring products such as waterproof vinyl floors or hybrid flooring are ideal.

Floors with scratch resistant top layers such as laminate flooring are a good option for homes with pets and young children.

If your home receives a lot of foot traffic, hardwearing types of flooring such as laminate flooring or engineered wood flooring will provide excellent durability in high traffic areas.
3. Look at your enviroment
If you live in a highly humid climate you'll find flooring types such as Vinyl and Hybrid lamintates are stable in changing climatic conditions. If you're close to sandy beaches consider scratch resistant laminate flooring, and floors with a matte finish are ideal as sand can dull gloss floors over time.
4. Consult the experts
The team at your locally owned and operated Carpet Court store are there to help. They have extensive knowledge and experience about all flooring types and can assist you with making the right flooring choice for your home, budget and lifestyle.
WHY IS FLOORING SO IMPORTANT
Flooring is one of the most noticeable features in a home. It can add or detract from your property's resale value, with high quality flooring a very marketable aspect. The right flooring options can:
Set the mood or ambience.
Create a sense of warmth, freshness and space.
Provide comfort and cleanliness underfoot.
Be easy to care for.
Provide a hypoallergenic flooring surface for allergy or asthma sufferers.
THINGS TO CONSIDER BEFORE PURCHASING NEW FLOORING
1. Decide on your interior style
The luxurious appearance of natural wood is classic and timeless, and will suit most interior styles from traditional to contemporary. The finished look is determined not just by colour and woodgrain patterns but also by plank lengths and widths, tones, matte or gloss finishes, textures and bevelled or straight-cut edges.
2. Assess your flooring needs
Consider aspects such as comfort underfoot and time spent on the floor, insulation requirements, cleaning and maintenance, pets and children.
3. Installation
Will this be a DIY project, or will you use Carpet Court's experienced installers for a professional job? Chat with the team at your local store about removing and replacing your furniture during the installation process, subfloor preparation, and the removal and disposal of your old flooring. These aspects can also be added to your free measure and quote.
BEST FLOORING FOR HIGH TRAFFIC AREAS
Most modern engineered timber flooring types provide good resilience and durability in high traffic areas.
Consider:
Solid wood floors are extremely durable and can last a lifetime. Some solid timber flooring types are extremely hardwearing but the surface may need re-sanding and repolishing when they show signs of wear and tear.

Engineered timber has extra the benefit of bonded core layers provided good strength, stability and protection against warping. Protective resins are used for top layers, giving excellent resistance to scratching, wear and tear.

Laminate floors also have the best scratch protection or a highly scratch resistant due to the superior melamine protective layer on the product.
Luxury vinyl plank flooring and hybrid flooring types are also excellent choices for high traffic areas with the added bonus of being waterproof or water-resistant.
FLOORING TYPES
1. Timber Flooring
Benefits:
Engineered timber flooring looks, feels and sounds like solid hardwood floors but is more affordable.
Can be installed in a floating floor fashion which has lower installation costs than solid wood floors.
Natural wood planks can warp but engineered wood flooring has strong core layers made from hevea rubberwood or plywood to prevent warping.
Range:
Carpet Court's timber flooring range includes a wide selection of leading brands, colours, tones and designs. Floating floors with underlayment can be laid above existing flooring such as cork flooring, linoleum or even porcelain tiles.

Colours available:
Colours include rich warm golden hues through to cool greys and light ash tones with a range of beautiful shades within popular wood finishes such as Oak, Spotted Gum, Brushbox, Ironbark, Jarrah and Blackbutt.

Rooms/home:
Timber flooring looks beautiful in any room of the house. Speak with the knowledgeable staff at your local Carpet Court store to see if engineered wood floors are suitable your home, lifestyle and budget.
Maintenance:
Timber floors can be:
swept with an indoor or microfibre broom,
vacuumed using a hard floor brush attachment, and
mopped with a damp mop in accordance with the manufacturer's care and maintenance guide.
Installation:
Floating engineered wood flooring can be installed as a DIY project or by Carpet Court's highly experienced professional installers. Underlayment provides acoustic and insulation properties.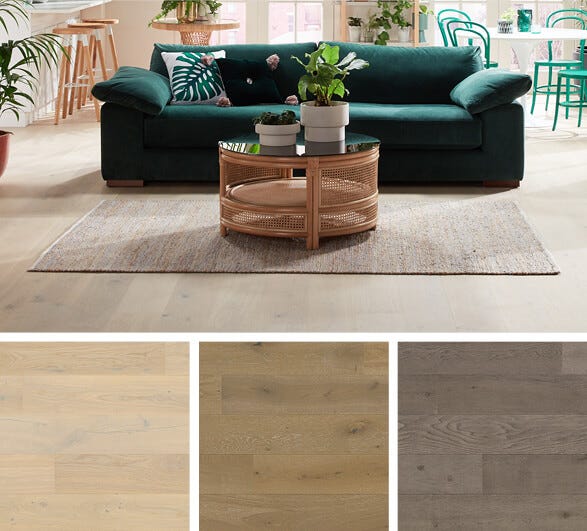 ---
2. Hybrid Flooring
Benefits:
Innovative hybrid flooring combines the best features of laminate and vinyl for a water resistant rigid floating floor product able to be safely installed in wet areas of the home.
Water, scratch and stain resistance.
Advanced imagery is used to create a beautiful timber aesthetic closely resembling the look of real wood.
Range:
A wide selection of hybrid flooring products with real wood finishes as well as the Elements range of hybrid tiles in stone, terrazzo, marble and concrete finishes.
Colours available:
Across the wide selection of leading brand hybrid flooring products is a stunning range of colours spanning rich, warm browns to on-trend greys and floors such as Integra 8's Fumed Blackbutt which blends both warm brown and smoky grey tones.
Rooms/home:
Waterproof hybrid flooring can be installed throughout the entire home, including wet areas for a seamless look.

Maintenance:
Being waterproof means you can wet mop your hybrid floors. You can also dry mop, sweep or use a brush attachment on your vacuum cleaner.
Installation:
Hybrid floors are easy to install as a DIY project, or you can opt to have Carpet Court's expert installers lay them for you.
---
3. Laminate Flooring
Benefits:
Advanced imaging imprints woodgrain finishes onto hardwearing laminate above bonded layers of fiberboard for added durability.
Laminate flooring has multiple protective top layers making it highly scratch resistant and highly resilient to wear and tear.
Quick and easy to install, and easy to clean.
Affordable laminate floors offer the luxurious look of real wood for a fraction of the price.
Range:
Floating laminate flooring is one of the most popular timber floors for family homes. The range of laminate floors available includes a huge selection of timber-look floors in wide or long planks in varying thicknesses.

Colours available:
Find a huge choice of colours, tones and shades to match every interior style. From cool to warm tones, deep to light shades and popular colours spanning golden browns through to dusky beiges and deep, dark charcoals.

Rooms/home:
Laminate flooring from different brands offers varying qualities. Some laminates have high water resistance, so refer to the specifications to see what areas of the home each laminate flooring product is suited for.
Maintenance:
Laminate floors are easy to maintain and clean. Options include:
sweeping with a soft indoor or microfibre broom,
vacuuming using a hard floor brush attachment, and
mopping with a damp mop in accordance with the manufacturer's care and maintenance guide.
Installation:
Quick and easy to install, laminate floors are a popular floor for DIY installation. They are also affordable due to low installation costs when you use our professional installers.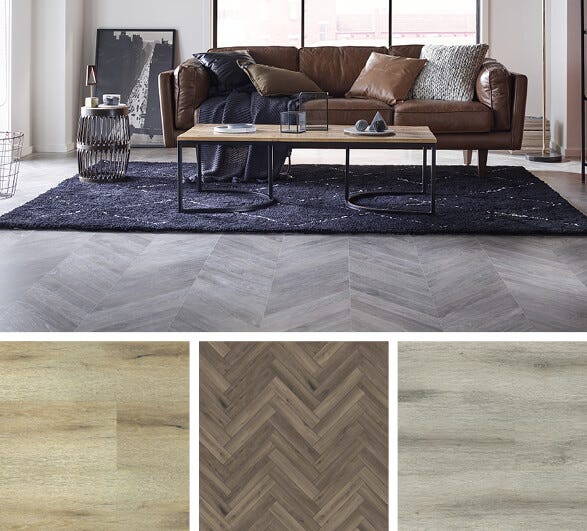 ---
4. Vinyl Flooring
Benefits:
An affordable way to achieve the look of real timber floors.
Waterproof vinyl products available.
Low maintenance.
Hardwearing and easy to clean.
Very easy to install.
Range:
Carpet Court's vinyl flooring range includes luxury vinyl planks with stunning woodgrain finishes in varying thicknesses, widths and lengths. Commercial grade vinyl floors also feature stone, geometric and abstract designs in vinyl sheets, vinyl tiles and vinyl planks.

Colours available:
A wide range of popular Oak, Spotted Gum, Blackbutt, Jarrah, Red Cedar and many more woodgrain finishes are available in the luxury vinyl plank range.
Rooms/home:
With residential and commercial grade vinyl floors available, hardwearing, durable and versatile vinyl floors can be laid in a wide variety of environments.

Maintenance:
Extremely easy to clean and maintain, vinyl floors are a popular flooring choice for busy homes with young children.

Installation:
A variety of installation methods are available with vinyl floors. Vinyl planks are flexible, easy-to-lay strips attached to the subfloor with adhesives. The subfloor must be well prepared before laying luxury vinyl planks.
---
BEST FLOORING FOR PETS
Some great flooring choices are available for homes with pets. Consider:
Laminate floors with highly scratch resistant surfaces such as tough and hygienic Florence Laminate with a matt surface and a highly resilient melamine finish.
Waterproof vinyl floors resistant to accidental puppy puddles.
In the Hybrid flooring range water resistant UltraPet Pinnacle Hybrid is designed with a special coating to be durable beneath pets' claws and is resistant to pet stains and odours.
FLOORING CHECKLIST
With so many stunning floors to explore in the showroom at your local Carpet Court store, remember to keep your focus on:
Lifestyle
Home environment
Budget
Installation
Style and design
Value-adding
FLOORING BRANDS
The world's leading flooring brands are all found at Carpet Court, Australia's largest flooring retailer. Choose from Australian and European manufacturers of high quality flooring products such as QuickStep, Kronotex and Kronoswiss, amongst others.
FLOORING FOR LIVING AREAS
Living area floors need to be versatile, combining comfort, style, aesthetics and functionality into one high-performing floor. Timber, laminate, hybrid and vinyl floors are easy to clean, durable and hardwearing flooring options which can be softened with rugs for extra warmth and comfort.
FLOORING FREQUENTLY ASKED QUESTIONS
What is the first thing to consider when buying flooring?
Floors can last a lifetime, so firstly consider what type of flooring will provide the most comfort and ease for your lifestyle and home environment.

What flooring will increase home value?
Beautiful, clean and stylish floors immediately create a good first impression if you are selling your home. Good quality carpet, timber and laminate flooring are popular choices for new homes and increasing the value of older homes.

What are the benefits of laminate flooring?
High-quality laminate flooring is:
Affordable and cost-effective.
Scratch, fade, dent and stain resistant.
Hardwearing and durable.
Easy to clean and low-maintenance.
Hygienic and hypoallergenic.
Easy to install with a DIY option.
Water resistant and some are waterproof.
What is the difference between engineered timber and laminate flooring?
Laminate floors are a composite product comprising several bonded core layers of hardwearing high-density fibreboard (HDF) with photographic woodgrain imagery and layers of clear protective resins.
The term Solid Timber refers to dense solid wood floors. Engineered timber refers to a timber floorboard that has a top veneer of a timber species but then layers of plywood, hevea or rubberwood which make engineered timber floors more stable than their solid cousins.

What type of flooring is best for resale value?
Popular flooring choices for resale value include high quality carpets, engineered wood floors and laminate flooring. All of these and more are available at Carpet Court.