At Carpet Court you will find an extensive range of flooring solutions for any house in Brisbane. The key to finding which floor coverings are the best for your house is to assess your environment and lifestyle.
Items 1-16 of 21 View All
Items 1-16 of 21 View All
Which flooring is best for a house?
Consider practical aspects such as, how much direct sunlight your floors will receive. There are many contemporary synthetic carpets made from solution dyed nylon (SDN) which are ideal for sunny rooms within the home due to their high level of fade resistance.
Considering Brisbane's humid climate and its impact on floor coverings, you will find hybrid floating floors or authentic timber flooring great options for Brisbane houses due to their moisture resistant properties. Hybrid flooring blends the best qualities of hardwearing laminate and easy-care vinyl to create a flooring option which is waterproof, durable, easily maintained and aesthetically pleasing.
If yours is a luxury Brisbane home you'll love our stylish and elegant carpet collections and sophisticated timber flooring, while busy family homes with kids and pets are ideally suited to vinyl planks, laminates and hybrid floors with in-built 'pet-protect' features.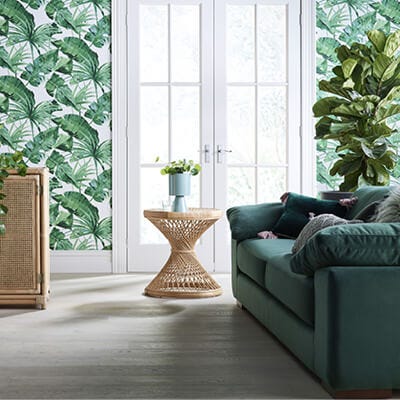 What is the cheapest flooring option in Brisbane?
With such a broad range of prices within every flooring type it is better to find flooring solutions which are the best for your home environment than to look for the cheapest flooring option first. The cheapest flooring options may not be right for your environment, so if you want both price and performance you need to choose the right floor covering for long term durability in your household.
Synthetic carpet may be the ideal floor covering for your home environment and lifestyle as well as your budget. There are very affordable synthetic carpets which create a pleasing aesthetic in any home. That said, there are also extremely luxurious, high quality and high-performing synthetic carpets which can be comparable in price to some pure wool carpets.
Vinyl flooring offers another affordable option, but again within the range of luxury vinyl flooring and commercial vinyl sheets there is a big range in price which can be on a par with both laminate and hybrid floor coverings.
Whether you are looking for timeless carpets, authentic timber or woodgrain floating floors, the best way to find the cheapest flooring option for your property is to consult with the team at your local Carpet Court store in Brisbane who will provide you with a free measure and quote.
How much does it cost to install flooring in Brisbane?
While many floating floors are suitable for DIY installation projects, we highly recommend having your beautiful new floor coverings installed by the team at Carpet Court to guarantee a professional finish and a high performing, long-lasting result.
The cost of flooring installation is dependent on the size of the area in which your floor coverings are being installed. Ideally, regardless of whether you have chosen to have new carpets, timber flooring, or high quality laminate, vinyl or hybrid floating floors installed, it is best to obtain a free measure and quote from your locally owned and operated Brisbane Carpet Court store. Not sure where that is? Find your closest Carpet Court store using our store locator.
Installation may also include the removal and disposal of your old flooring if required, and even the removal and replacement of your heavier furniture during the installation process.
How to order flooring at Carpet Court?
You can create an online account with Carpet Court and place your order that way, or you can order in store and arrange delivery and installation directly with your local store. To discuss the best way to order your new flooring from Carpet Court call them on 1300 CARPET today.
View our list of Metro Brisbane stores below: