Whether you use art as a starting point for your decorative choices or as a standalone focal piece, it should always suit you, your tastes and desires for the space. Don't feel pressured to put pictures on walls just to fill the space if your heart isn't in it, or if they don't make the room feel and look the way you want it to.
Art as décor
Artworks are often the central element in a room, but they can also be central to your interior colour scheme.
This 'art as décor' approach will see you take a small nuance of a colour from an artwork and reference it in soft furnishings or décor.
For example, think of a painting of a sunset with colours of blue, pink and sand. You could reference the blue through using the same toned throw and cushions. If you're daring, you could add both the pink and blue on a bed using cushions or bedcovers.
Art a standalone piece
You can include art in a room that has no reference to the colours in the décor and furnishings, as long as the room has a coherent palette and adheres to the fundamentals of great design.
Generally speaking, keep your floors in neutral colourways or materials, so that the artwork on your walls becomes THE statement. Carpet Court's Luxe Palette in Achillea or Exquisit Laminate in Gala Oak Grey are both good examples of keeping your floors subdued and letting your prized pieces do the talking.
Art should always reflect the mood you want for the space. You can use different styles, periods and even types of art in one room. Combining pieces with consideration should complement the feeling of the overall space, even if the pieces don't necessarily complement each other.
Art should work with the scale of the wall and the room. Large walls call for large pieces of art, and smaller artworks work well in a contained space or grouped together in a gallery hang. You can have a lot of fun with a 'French hang' by embracing the haphazard art types, sizes, styles and frames.
Mid-sized artworks work particularly well on smaller walls, or as part of a vignette in a hallway or entrance. When they are grouped together behind a console table along with a gathering of considered objects, together they can tell a story.
Art to anchor a space
A beautiful picture behind a dining table can be the only thing that the space needs to delineate it within an open plan. A large painting can also be the perfect high point to a living space, drawing your eye up to the highest and furthest point in a room, allowing you to create the appealing illusion of forced perspective.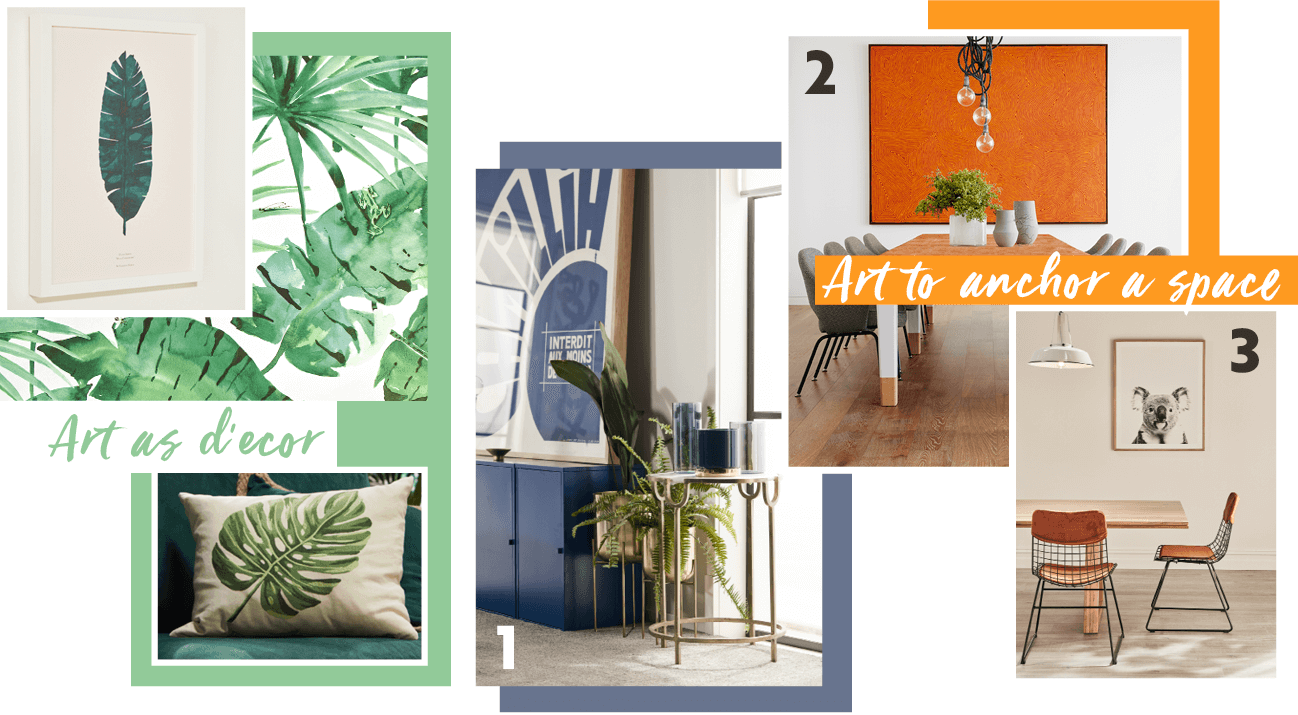 Get the Carpet Court Look
1.  Carpet Luxe Palette in Achillea
2. Timber Natures Oak in Everest
3. Laminate Exquisit in Gala Oak Grey