A rug is a simple, cost effective and fun way to add colour and interest to a room. The tough decision is choosing the right rug for the right room. Whether you're creating a nursery, redecorating a kid's room, or heading down the teen trail, all you need to do for a change is to swap out the rug.

Besides the ease of keeping up with home design, a rug is a simple way to protect your greater investment – your flooring. For example, if your floor receives ample sunlight, the rug will protect it from fading.
HERE IS MY LIST OF BEST RUGS FOR FAMILY HOMES FROM CARPET COURT

The great allrounder - The Saffron range
With a gorgeous neutral palette and thick, plush pile, the Saffron is a Moroccan design with a modern edge. This rug works in every space - a neutral nursery, right through to teen girls' and boys'
rooms. This rug can also look stylish in a living or TV room making it suitable for a family room.

Classic, modern, and timeless - Marrakesh range
The Marrakesh range is very on trend, with a gentle palette to suit all ages, rooms and tastes.

Teen sophistication – Lunar and Opera ranges
I have two young girls ready to take the leap from 'kids' room' to 'teen space', so I was pleasantly surprised when the Lunar rug appeared at the top of their list. Round in shape, this rug can work
to define a zone in the room. Made of 100% cotton, it's soft underfoot and can work in any climate or situation.
Many Australian homes come with heritage features and charm, and rugs can enhance that character and elegance without making the design feel dated. Opera features a variety of beautiful
floral motifs and aged patterns that can add a sense of maturity to a teen room.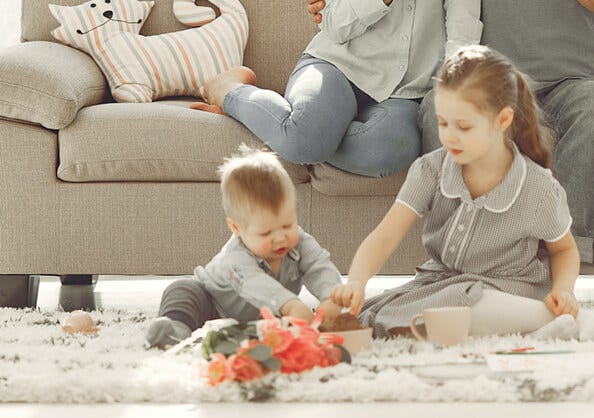 Playroom fun – The Botanical range

With a brilliant combination of bright colours to excite young eyes, the Botanical is the perfect rug to inject some fun, fun, fun! Made from synthetic fibre, this short-piled rug is a low
maintenance, family friendly option – making it the perfect rug for a kid's room or playroom. Go on, take a chance!

Easy living – The Loft range

If you're wanting to add a layer of colour and warmth without being too bold – I love the Loft range, particularly over hard flooring in a living room. It feels soft underfoot but has a summery
vibe, in keeping with homes that have lighter floors or warmer climates. Creamy base with soft pastel hues, this rug can work in all manner of spaces.