Darren has a broad portfolio, having studied fine art & graphic design, originally working in advertising and owning his own graphic design company. After succumbing to his true passion, Darren now operates his own interior design studio and has been a judge on numerous seasons of The Block.
WHAT DOES ONE NEED TO CONSIDER WHEN SELECTING WINDOW FURNISHINGS FOR THEIR HOME?
LIGHT AND PRIVACY
When selecting window furnishings for your home, there are two key considerations - privacy and light management. However, some window furnishing solutions that make your home private by day, may not provide the same level of privacy by night.

When it's light outside and dark inside, a sheer or semi-translucent window covering will create indoor privacy. However, when it's dark outside but light inside the home, the same translucent covering won't be as effective. This is why it's important to consider both daytime and nighttime privacy requirements, and what window furnishing solutions will help manage both.
Some ways to manage privacy both during the day and at night include layering together a semi-transparent blind and a block out blind. Alternatively, you can use a mix of sheer coverings such as Veri Shades® and a blackout blind.

Though they don't provide full block out qualities, Indoor Plantation Shutters let you control the amount of light that streams in and out of a room, while allowing you to manage privacy levels. To help manage light levels, consider the same combination of products mentioned above. It's important to also consider which rooms receive the most natural light and which require light to be reduced early in the morning, through the middle of the day, or in the afternoon sun.

Rooms with a western orientation, such as a living room, need to use window furnishings that will block out the afternoon sun, otherwise they're at risk of heating up the home and requiring resources such as air conditioning to cool the home back down again.
AESTHETIC AND PERCEPTION
Another less obvious consideration when it comes to window treatments is how they can change the aesthetic of the window itself and change the perception of its dimensions and scale.

Consider a window that is oddly placed on a wall - perhaps skewed off to one side with a large expanse of wall to the other - if you apply a window treatment, such as Veri Shades®, to either side of the window so that it covers the wall from floor to ceiling and wall to wall, you can fool the viewer into not knowing how wide the window is behind the treatments.

You can also trick the eye into thinking a window or door is higher than it appears by placing a roller or roman blind above the window or door frame. It's a great trick if you can wrap your head around the idea of window treatments being used to create illusions in scale and dimension.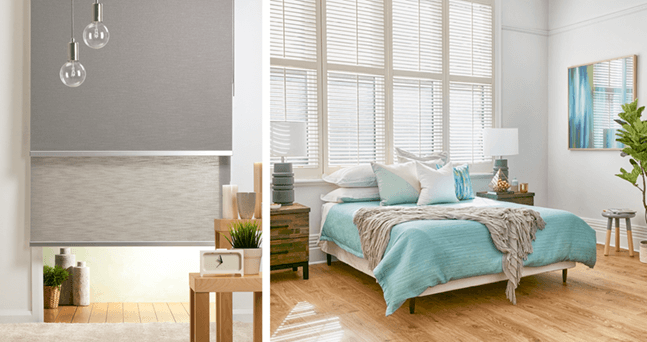 HOW DO WINDOW FURNISHINGS PREVENT HEAT GAIN WITHIN A HOME DURING WARMER MONTHS? HOW DO THEY RETAIN HEAT DURING THE COOLER MONTHS?
From both an energy and money saving perspective, the correct window furnishings within a home does make a significant difference to its interior temperature.

Blinds and shutters can help prevent excessive heat by blocking or reflecting the sun's rays. External awnings, blinds and shutters are best for summer heat rejection, as they prevent the sun's radiation from even reaching the window. However, internal blinds and shutters can also help keep your home cool, especially when they're made from materials that have a reflective finish on the surface that faces the window. In colder seasons, tightly installed cellular shades can reduce heat loss through windows by 40% or more, meaning you save more on heating and energy.
WHAT ARE THE KEY BENEFITS OF USING WINDOW FURNISHINGS AS A WAY TO COOL OR HEAT A HOME?
Window treatments are best considered as a way to keep your home private and allow you to control the amount of light and warmth your home receives - this can be created with duo roller blinds. When the temperature starts to drop at night and your privacy needs change, a duo roller blind will allow for very little gap between the window treatment and the window itself.

The reverse is also true in the warmer months. The window furnishing acts as a barrier between the cool air in your home and the scorching heat on the exterior, so it's beneficial to keep the windows closed and blinds drawn to keep the elements out and your energy bills down.
NEED MORE INSPIRATION?
View more of our Seasonal Trends articles or check out our Influencers Collaborations for more interior ideas and design tips.