Darren has a broad portfolio, having studied fine art & graphic design, originally working in advertising and owning his own graphic design company. After succumbing to his true passion, Darren now operates his own interior design studio and has been a judge on numerous seasons of The Block.
Style Guide: Hamptons style on a budget
The Hamptons look originates in the region of Long Island, New York. The beachside houses share a sense of scale, generous proportions, and luxury (that comes with the hefty price tag) - but you can recreate that internationally recognised Hamptons-look on a reasonable budget. Below are my top tips to achieve that airy, light, bright and fresh Hamptons interior that translates so well for Australian living.
1. Well-dressed windows
Whether contemporary or traditional Hamptons is your style, you'll want to dress your windows properly. That means working with the light and privacy constraints you have, but moreover playing with the sense of height and drama you can create with drapery - you can get the best of both worlds by using Carpet Court's Veri Shades®.
For best results, approach your window treatments in an oversized manner, working from ceiling to floor and wall-to-wall, utilising the outer edge of windows to create the illusion that the window may extend behind the window treatments. This will add to the drama and scale effect.
2. Timber floorboards
Hamptons flooring isn't just one type or colour, just like there isn't just one style of Hamptons home. A modern Hamptons home might use oak, such as Carpet Court's Precinct Oak engineered timber; a boat house style Hamptons home may use greyed or bleached white floors, such as Carpet Court's Infinity Hybrid in 'Coastal Mist'; whereas a traditional Hamptons home could have walnut or chocolate timber floors, such as Carpet Court's Exquisit Laminate in 'Tuscany Walnut'.
Essentially, you can use wide boards, parquetry or almost any type of refined timber or timber-look floors to achieve quintessential Hamptons style in your home – it all depends on the scheme you aspire to.
3. Layer with rugs
Rugs will make the space feel polished. Opt for rugs in natural tones and washed out blues to suit both a modern or traditional Hamptons style. Carpet Court has several easy go-to rug styles including Evoke in 'Horizontal White Navy', Raffia in 'Sky and Terrace in 'Cain Blue'.
A great outdoor rug to consider is Carpet Court's Terrace range in 'Diamond Blue'.
4. Wonderful walls
Walls can be purely white, but more often are shades of greyed neutrals, sage greens and duck egg blue. For heightened luxury, look to wallpapers in paisley, ticking stripe, grass cloth or with plantation style palms or tropical motifs.
Wall paneling, dado rails and wainscoting can be found in both the traditional and contemporary Hamptons style homes. If contemporary Hamptons is your vibe, look to Carpet Court's WoodBeQuiet range of wall paneling.
In summary, you have option upon option for your walls - the best way to narrow your field is to decide which Hamptons style will best suit your lifestyle and your home.
5. Oversized furniture
Traditional Hamptons homes are stately and have grandeur, which translates to high ceilings, large-scale staircases and entrances and generously proportioned furniture. Oversized 3 or 4-seater sofas with removable covers look right at home, as too do upholstered sofas in natural tones with ticking stripes. Also include occasional or wing backed reading chairs to dial up the drama (and comfort) factor.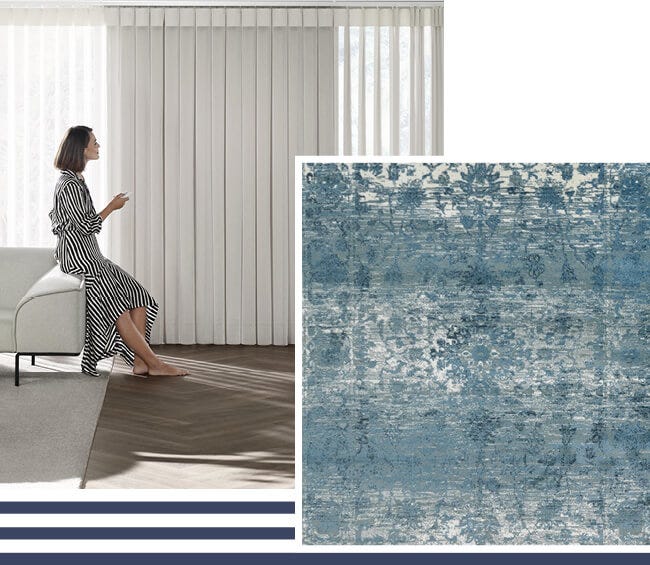 FEELING INSPIRED?
View more of our Seasonal Trends articles or check out Influencer Collaborations for more interior ideas and design tips.