Heather Nette King is a Melbourne-based interiors stylist and writer for many leading interior titles and newspapers. The hallmarks of her styling are colour and vibrancy, and she writes passionately about peoples' homes and how they live in them.
No plane ticket? No problem! How to take inspiration from around the globe to create your best holiday at home this summer.
Putting a positive spin on global travel restrictions may not sound like an easy task, but this year I am determined to enjoy the beautiful Australian summer! To help me create a fabulous holiday at home, I'll use a few takeaways from the rest of the world. Join me as I embark on a little dream-trip around the world.
London parks – the home of the best picnics
The English know how to do a brilliant picnic in the park - think layered rugs, lush green grass, scones with jam and cream, lobster sandwiches and lazy games of cricket. So, drag your rugs outside, layer them up with cushions, add some music, invite some friends, and eat until you doze off in the sun! For another fun garden hack, roll out some artificial turf to create a perfect cricket pitch.
Scandi Candi style for a bedroom makeover
If we're going to be home rather than abroad, why not devote some time to a beautiful bedroom makeover? One of the hottest fashion trends is the Scandi Candy look, popularised by the stunning Scandi 'it' girls and Instagram influencers. The look features beautiful candy-coloured hues: pastel pink, minty green and tangy sorbets, all kept from being too sickly-sweet by a hint of light brown or tan. The favoured accessories are quirky candles, checked bedding and bold graphic art. Create the look here with stunning carpet such as the Total Bliss in Pink Candy, or Soft Green.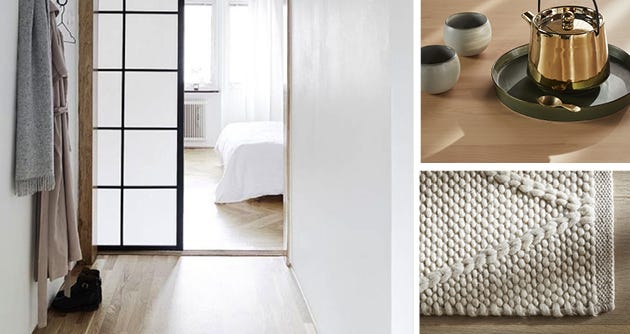 Create some holiday bliss with Japandi or Scandanese style
After a crazy year with more uncertainty than ever before, perhaps you are thinking about creating a a Zen zone for your home? The principle of Zen meditation is often described as "thinking about not thinking". The concept of minimalism, or leading an uncluttered life leading to an uncluttered mind, is linked to this idea. Unsurprisingly, the two décor styles most famous for their minimalist principles have formed a calming interior hybrid style known as Japandi or Scandanese. To create this look in your own home, start with the organic purity of a timber floor, a simple 100% wool rug, and simple roman blinds.
Breezy Bahamas beach cabin style
If your idea of a holiday involves iced-teas, warm seas and afternoons lazing on a daybed with soft linen curtains gently swaying in the breeze, then a perfect way to achieve this is by investing in the smartest blinds around – Veri Shades®. They combine the elegance of linen blinds, and their supple folds operate like blinds to provide privacy, superior light filtering and airflow control. So, whether your daybed is inside or on a deck, add a few potted palms, white linen cushions, and these brilliant shades to instantly transport yourself to the Bahamas.
At home alpine retreat
For some, a holiday will always involve a beach and others prefer fresh air and mountain ranges. Log cabins and mountain retreats have come a long way – they're not solely country-style affairs anymore. Instead, premium lodges offer upscaled amenities and luxe contemporary interiors. The 'rough meets luxe' look has gained popularity - it's the ultimate lesson in combining the seemingly unsuitable chandelier with rough timber walls. There's no better way to add some luxe country to your home than with Carpet Court's WoodBeQuiet wall panels. Use them on one wall for a stunning feature, or all four to achieve this cosy, alpine retreat style.
I hope this guide inspires you to make the best of your break, and to remember that a change is as good as a holiday!
NEED MORE INSPIRATION?
View more of our Seasonal Trends articles or check out Influencer Collaborations for more interior ideas and design tips.