Darren Palmer has a broad portfolio, having studied fine art & graphic design, originally working in advertising and owning his own graphic design company. After succumbing to his true passion, Darren now operates his own interior design studio and has been a judge on numerous seasons of The Block.
---
Countrycore, also known as Cottagecore, is the trend that bloomed out of lockdown across the globe, as people's desire for their home to feel as it did in simpler times grew dramatically.
To achieve Modern Country, or Countrycore, imagine a small cottage in the English countryside with touches of gingham, florals, woven baskets, and crocheted accessories.
PATTERNS
When it comes to recreating farmhouse design, you can never have too many florals. From small, repeated patterns to layering different sizes and colours of florals, floral fabric is the perfect way to create your own Modern Country styled home. For uniquely Australian country house designs, think about our own native flora as part of your palette.
FLOWERS
When achieving a country house design, decorate the home with fresh flowers - like roses, peonies and hydrangeas.
In fact, think about what a local cottage garden might produce and then integrate it into your home. Whether it's root vegetables gathered in large timber bowls, or freshly grown herbs to garnish your kitchen counter tops, a touch of produce will turn your home into a cottage.
CRAFTSMANSHIP
When furnishing your home to suit the rustic and nostalgic feeling of Modern Country look for pieces that either feel authentic to country life, or source vintage pieces with beautiful hand craftsmanship.
If you want to integrate some modern classics amongst the older, more rustic pieces, consider rattan and bentwood. Bench seats, butchers tables, or sizeable furniture with a bit of wear each fit well within this setting.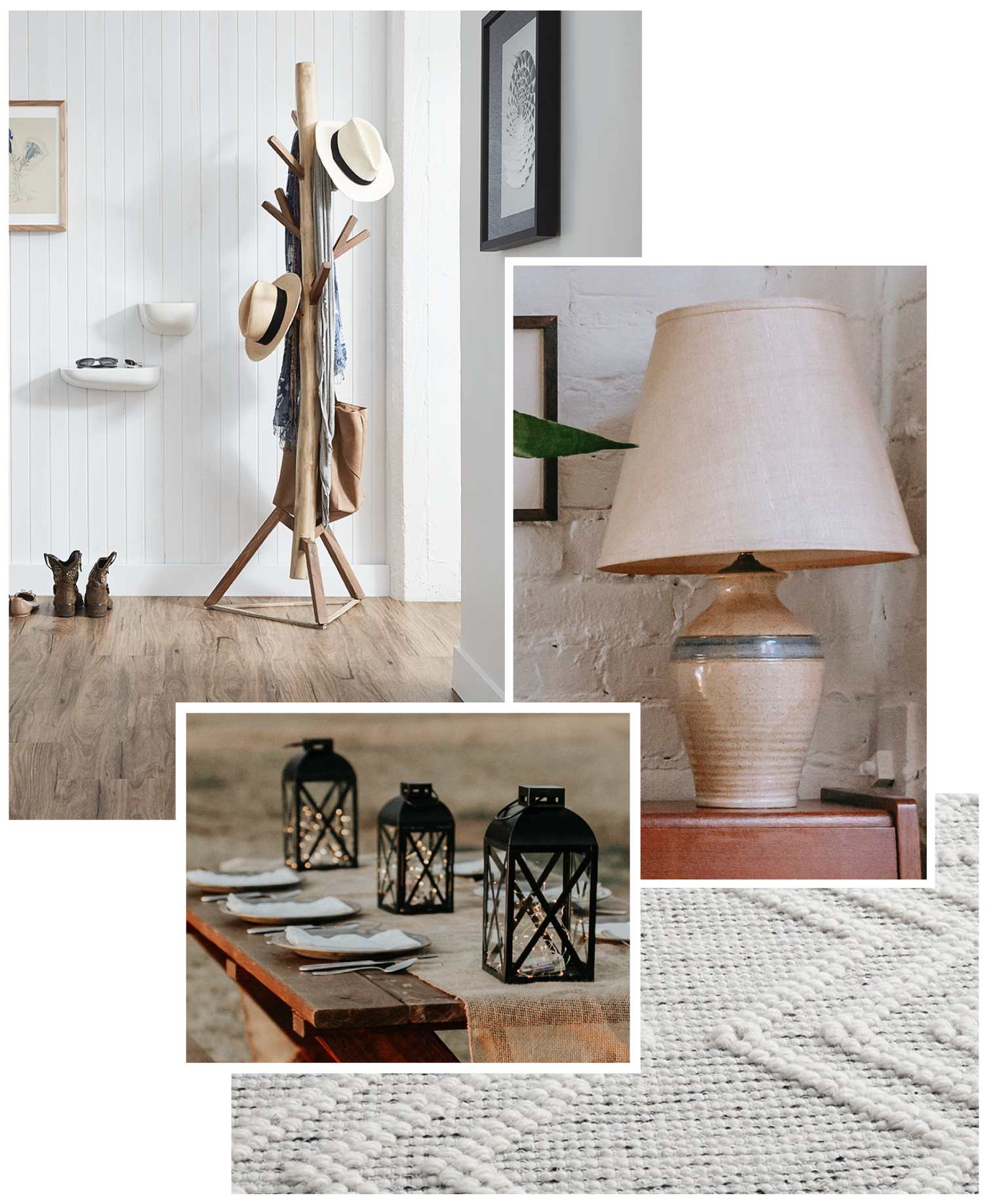 ACCESSORIES
Lamps, lamps (and more lamps!) will help you to create the perfect farm-style house. Patterned shades or bases that are layered amongst the carefully curated chaos look just as good as some of the more contemporary forms.
FLOORING
Unless you're working with existing flooring, you'll want to choose new floors that feel authentic and connected to the farm style house. Look for timber that has knots and interest, such as Carpet Court's Oak Essentials.
This is your opportunity to play with more aged or darker toned timber floors, or their vinyl counterparts such as Carpet Court's Florence Luxury. Herringbone floors, such as Carpet Court's Grand Oak Herringbone, will never look out of place within country home design, so use this opportunity to play with the pattern and make an impact from the floor up.
When creating a cozy feel to the modern country style try adding in rugs with natural textures. Carpet Court's Rustic Charm rug is made of a combination of natural fibres. Wool Rugs also give a beautiful warm feeling to the home.