Darren has a broad portfolio, having studied fine art & graphic design, originally working in advertising and owning his own graphic design company. After succumbing to his true passion, Darren now operates his own interior design studio and has been a judge on numerous seasons of The Block.
What are your top five ways to elevate DIY flooring?


SELECTION
Selection is the first, and most important, step towards elevating your DIY flooring. Choosing the colour, type and pattern that best suits your brief is a process to be handled carefully. Your brief should indicate your price range, usage considerations, your own skill levels, and mood that you're trying to create.
PATTERN
If you want to create more interest and your skill levels are advanced enough, you can consider chevron or herringbone flooring. For the less experienced, focusing on getting high impact from the colour or texture of the flooring, rather than being too intricate or adventurous with patterns, may be wiser.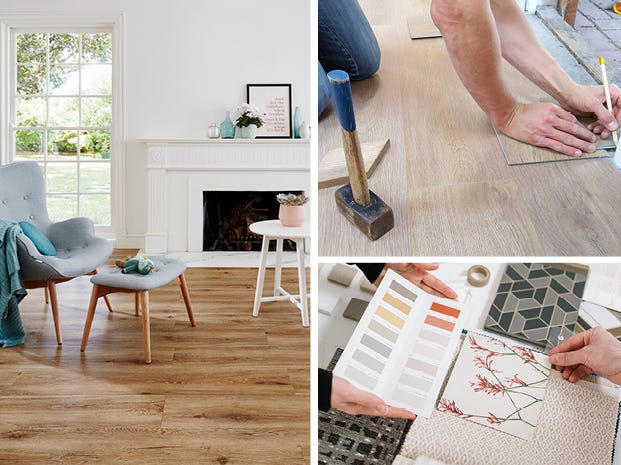 APPLICATION
Whatever option of flooring you make for your DIY application, it is essential that it suits your skill level. Your personal application skill levels may vary - from someone lacking confidence with using box cutters, or those able to use a hand saw or power saw - the key is to match your selection to your skills.
FINISHINGS
From cutting around skirtings and architraves, to finishing the edges with caulking, attention to detail on the flooring finishes is the key to a nice, clean result.
PREPARATION
As you're preparing to lay your flooring, make sure you take care of the product and that you're being hyper diligent about the level of finesse that you apply.
DECORATION
You should always think of your flooring selection as part of the overall scheme of your home. Decorations such as rugs, paintings, skirtings, and architraves are helpful when completing your DIY project as they help align the space to the rest of your home's aesthetic.
Which hard flooring products are best for DIY projects and why?
Vinyl plank is the gold standard product for a high impact and easy DIY flooring project. You can cut it with a box cutter and install it with minimal carpentry skills; you only need a safe cutting surface, metal ruler and a sharp blade. Some vinyl planks that aren't a 'click-together' style will also require glue, however the most common method is by using a spirit level or flat substrate.
Hybrid planks are almost as simple as vinyl planks, however hybrid boards will often need to be cut with a power saw, despite the process being very similar to vinyl planks.
Engineered boards have the most natural and authentic finish, with colour and textures resembling timber products. However, with any timber product, you will need to be highly proficient in the operation of a power saw.
What role do rugs play in a room with hard flooring?
Sometimes there is nothing more rewarding than placing your feet onto something soft and warm in contrast to the coolness of hard flooring. When positioning rugs, think about where your feet land. For example, if you're laying a rug under a bed, place it where you will avoid stepping on the cold floors.
A well placed and chosen rug can elevate any room's aesthetic appeal and visually soften a space. Think about a rug as art – they're an opportunity to express personality and individuality. Rugs also decorate and define a space. For example, in large open-plan areas rugs can help establish the living space from the dining area.
Rugs can unify furniture selections and separate elements in a room, especially a living room that can sometimes look disconnected. A rug is a perfect way to make the coffee table, sofa, chairs, and coffee table feel like they are a whole, simply by sitting them on the same rug.
Rugs can also create scale; often a larger rug option in an interior will make a space feel larger.
When you choose a generous piece, large items in the room become intrinsic to that space.

What are the rules when it comes to styling a room using rugs?
Allow for 300mm of visible flooring around the perimeter of the rug.
The rug must be large enough to fit the front feet of all major furniture on the rug.
Rugs can create interest through colour, pattern and texture.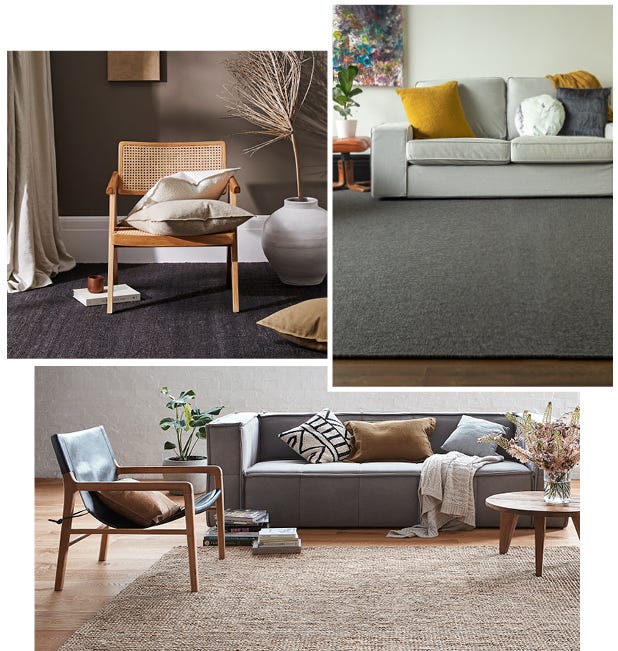 When it comes to mixing rugs with hard flooring, which colour combinations/patterns/materials complement each other best?
A neutral base means you can almost use any colour, likewise with a black rug.
A dark base will require colours that are complementary to the underlying colour of the rug – whether it's green, yellow or red based.
Coastal looks can be achieved using woven wools and sisals.
Country looks can be achieved with thicker piles and traditional patterning.
Contemporary looks can be achieved with rugs that have art-like properties, from colour to pattern and texture height variations.
FEELING INSPIRATION?
View more of our Seasonal Trends articles or check out our Influencers Collaborations for more interior ideas and design tips.