There are a few terms thrown around in the design world that are ambiguous at best – vignette is one of them. Within an interior's context, a vignette is a collection of items that are stronger visually than each of their individual parts. A vignette is a curated way of presenting these décor items and prized possessions.
Why we need vignettes
You might have décor items and prized possessions collected on your travels neatly lined up and displayed on shelving or in cabinets, but this manner of display is more appropriate for a collection rather than a reflection of your personality and style.
The whole point of a vignette is to show, in a neat collection, well-considered and well-presented pieces that you love, aesthetically as well as culturally.
Whilst you can either trap your prized pieces in cabinets or disperse them with relaxed abandon throughout your home, this will either create a look of being uptight and constrained in the former case, or cluttered and disorganised in the latter. By collating your decorative elements together, you are giving each piece a chance to tell a story and belong to something more appealing than if they're strewn singularly on their own.
How to create a vignette
There are several design principles that you can employ to give you guidance on what to bring together to create a vignette – contrast, complement, variation of type, material, colour, pattern and texture.
Another useful design fundamental is forced perspective, where the tallest item is the furthest away, with medium height elements used in the mid ground, and smallest or shortest items used in the foreground or closest to the viewer.
You can create a vignette on a console table by starting with an artwork or mirror hung on the wall. In front you might place a table lamp, vase of flowers, a plant or an orchid, the key being to create some mid height interest. You may then place a smaller item in the foreground that that you have collected from your travels.
Next, add a stack of magazines, or a few books, to create some interest in shape, and create a lower height grouping of a set of colours that works with your room's colour scheme. Look at the spines and cover designs for consistency, as well as the size, with a successively smaller sized book stacked on top of the last.
A vignette can be completed with a candle or room scent diffuser, these generally providing an olfactory as well as visual stimulus, given that they can add a pop of colour, pattern or variance of shape to your vignette.
Just as a room looks more complete with a great rug tying all the elements together, a vignette looks grounded when placed on a tray big enough to contain most or all the items within it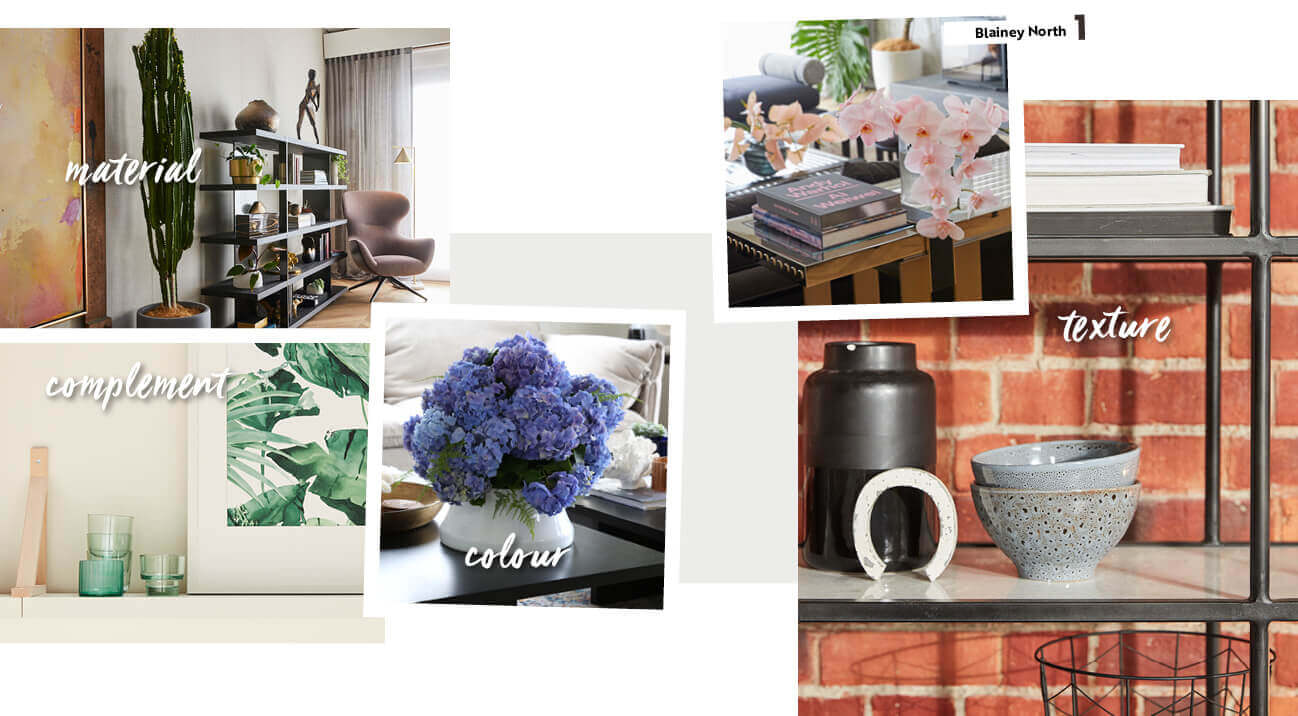 Get the Carpet Court Look
Blainey North www.blaineynorth.com