Darren has a broad portfolio, having studied fine art & graphic design, originally working in advertising and owning his own graphic design company. After succumbing to his true passion, Darren now operates his own interior design studio and has been a judge on numerous seasons of The Block.
What are four key design elements that you should consider when styling with patterned or printed rugs? (e.g. lighting, furniture, color scheme).
THE MOOD OF YOUR HOME
A boho chic, coastal, country, or city interior design scheme will each call for a different type and style of rug in your home. So, first things first, look at the style you're creating and then choose a rug to suit. For a boho style, look at the Chrome rug from Carpet Court's extensive rug range, or the Allure range for customisable rugs for the perfect soft, textural base to a country style or contemporary style home.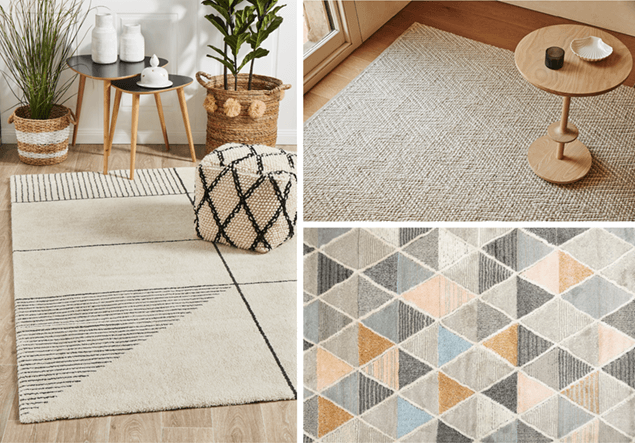 THE COLOURS IN YOUR HOME
Look at the colours within your home to decide whether your rug will work within the existing palette or contrast against it. Décor and soft furnishings can tie in with your rug, or you can use the rug just like art, as a stand-alone statement.
THE MATERIAL OF YOUR RUG
The most appropriate type of material for your rug will depend on several factors, such as how much wear it gets. If you have pets or small children, consider a cut pile rug with colour variation made from a durable and easy to clean material, like solution dyed nylon. If you have a home occupied primarily by adults, you can choose any material, pile, and construction you desire, if you're happy to maintain it as directed.
THE SUNLIGHT IN YOUR HOME
The amount of natural sunlight that is directed on the rug, or parts of the rug, can influence the colour, particularly ones made from less UV resistant materials such as silk. A more durable yarn with a similar effect would be rayon, or other synthetic fibres with some sheen and shine. Natural wool has great wear and water-resistant qualities but do ask for advice on what will work best in your home.
What impact can a printed/patterned rug have on a space? (e.g. sense of size, visual interest, texture, layers, etc.)
A patterned or printed rug can have a transformative effect, not just because it adds visual interest, but also because it can change the way a room's dimensions can be perceived. For example, a linear design will create an effect of lengthening or widening a room, dependent on the direction of the line. As a rule of thumb, a linear design will help the perception of added width by running the line perpendicular to the longest wall, or parallel to the shortest one. Patterns can also help guide your eye away from the design challenges in a room, such as angled walls.
How can you mix patterned rugs with other patterned/printed décor items without creating chaos?
For visual harmony, link the textures, colours and patterns with the style of your space. If you have a more organic styled home, an organic design will compliment it well. If you have geometric patterns or edgier designs, then a similarly edgy design can work well. Or, if you need to tone down bold designs, then a more neutral design can be just the right balance.
How can furniture/artwork/décor compliment a printed/patterned rug?
Never be afraid to use colour in your interiors, especially when it comes to décor, soft furnishings, and rug specifications. That said, a statement sofa or chair can be just the thing to elevate a room! Using a rug that includes the same colour as your statement piece, even if it's only one part of the overall design of your chosen rug, can have an impressive impact on a space. These simple details will get the best and most impactful result from the rug you decide to take home. Scale of rugs is also an important consideration and if in doubt go larger than you think, if it fits within your room's dimensions.
NEED MORE INSPIRATION?
View more of our Seasonal Trends articles or check out our Influencers Collaborations for more interior ideas and design tips.