Darren has a broad portfolio, having studied fine art & graphic design, originally working in advertising and owning his own graphic design company. After succumbing to his true passion, Darren now operates his own interior design studio and has been a judge on numerous seasons of The Block.
For every home, there is the perfect mix of window and door treatments that best accommodate the requirements and functionalities of the house and lifestyle led within.

For transitional openings, such as doors, sliders, stackers or bifolds, it's great to have the flexibility of a window treatment that you can walk through without having to open them partially or fully, especially if you have pets or children running in and out of the house.

Available in a selection of six colours and a variety of drop lengths up to 4 meters wide, Veri Shades® are a brilliant option to control light levels and privacy, while also providing the elegance of a sheer s-track curtain. They have the ability to retract and expose the entire window opening, or provide whichever level of UV protection and privacy the doorway or window requires.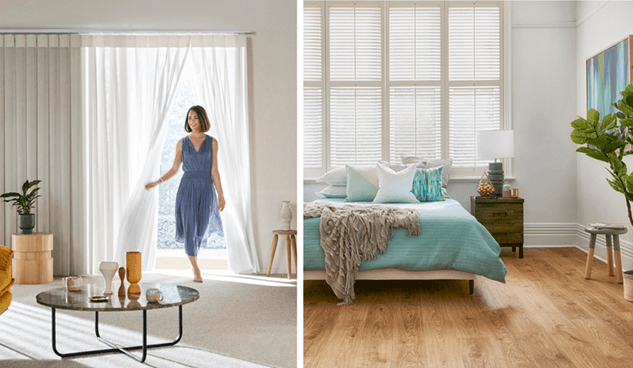 Another great solution to controlling levels of privacy and light are the classic Indoor Plantation Shutters also available from Carpet Court. Available in four colours, plantation shutters are a great way to elevate your windows, irrespective of their type or age. The shutter sits within a frame that in turn sits in front of the window frame, so if you are wanting to achieve a coastal look within your home but your windows are silver in colour, the plantation shutters cover the entire frame, allowing you to recreate that perfect Hamptons look.

Indoor shutters are hinged and can be fully opened into the room or adjusted slightly to help control privacy. You can also adjust them to keep out the heat and natural light - perfect for those that aren't naturally early risers!

There is a classic contemporary beauty to indoor shutters which will easily dress up even the most out-of-date windows and align them to a contemporary, coastal aesthetic within your home.
If you're looking for an 'out of sight, out of mind' solution, then you can't go past Roller Blinds. Put into a recess or behind a pelmet, the roller blind and mechanisms can be hidden away when they're not in use and then lowered when required.

Whatever your requirements are in terms of privacy and light protection, you can find a solution in a colour that suits your home and its aesthetic.
If you desire complete block out blinds, but also a degree of transparency, you can double up with two roller blinds on the same opening, or utilise Carpet Court's Transitional Plus roller blind range.
No matter the style or constraints of your home, or your desires for access to views or privacy protection, there is a window dressing solution for you at Carpet Court.
NEED MORE INSPIRATION?
View more of our Seasonal Trends articles or check out our Influencers Collaborations for more interior ideas and design tips.