It's bad enough that we often must bring the office into our home, but that's just a part of life. Conversely, having a place that's conducive for work can liberate you from the need to go into the office – so invest some time and effort into creating a functional home working space.
Start with demarcating an office area. Your office needn't be sophisticated, it could be a cupboard on the outside with pocket hinged doors, hiding within it a desk or pull-out desk space, a place for your laptop or desktop, or an area for a printer and storage space for stationery. Of course, if your home office has its own dedicated space or is part of a bedroom, consider making it warmer and more comfortable by using carpets. If it is part of an open plan living area, it's more likely you'll have easy to clean and versatile hard flooring, you can "zone" an area like this by marking it out with a nice rug. Ultimately the more comfortable you feel in this space that better you'll be able to be able to concentrate and create.
When organising an effective workspace, the key is to think about what you need and how often you need it. This will give you guidelines for the appropriate location for each object you need to house. Need an item every five minutes? You'll need that on the desktop. Need access to something every hour, some overhead shelving will do the trick. If you need access to an item once a day, use the cupboards or drawers contained within the desk.
Your home office needs to share an aesthetic with the rest of your house. This means getting cues for materiality from your kitchen or internal cabinetry, robes or even your laundry or bathroom. Think about where your home office is located, look at the surroundings and work in your materials palette so that everything works coherently together. The benefit of a home office is that it can reflect your own taste.
Your home office also needs to be a place to focus, to contemplate, and be inspired to work, so give yourself lots of natural light and the ability to control and filter it. Blinds or Shutters work perfectly this as you can provide the correct amount of light necessary for your tasks. Give yourself the best view you can, whether that's a glimpse over treetops, a view onto your garden or even a well-placed mirror that lets you see the rest of the house.
Invest in functional comforts – an ergonomically designed chair to assist with your posture, as well as a desk of the right height. Include artificial light sources, such as overhead or under shelf ambient lighting, or task lighting such as a reading lamp. You want to be able to work at whatever hour you need and to be able to control light appropriately.
Give yourself privacy wherever you can. If it's a small room that has a sliding door, noise cancelling headphones or a sound system to pump your favourite working music will give you the best chance to work uninterrupted and comfortably in your home.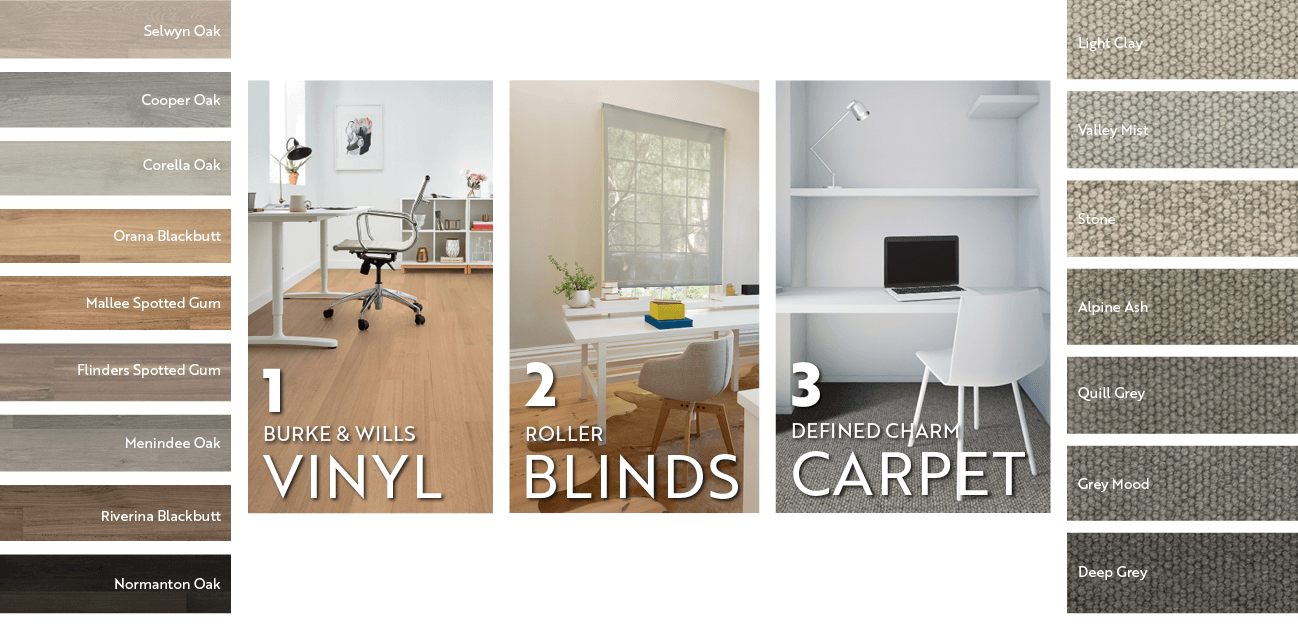 Get the Carpet Court Look
1. Vinyl Burke and Wills in Carpentaria Spotted Gum
2. Roller Blinds Husk II in Warm Grey
3. Carpet Defind Charm in Grey Mood