Modern Mono
Get inspired by the Modern Mono Trend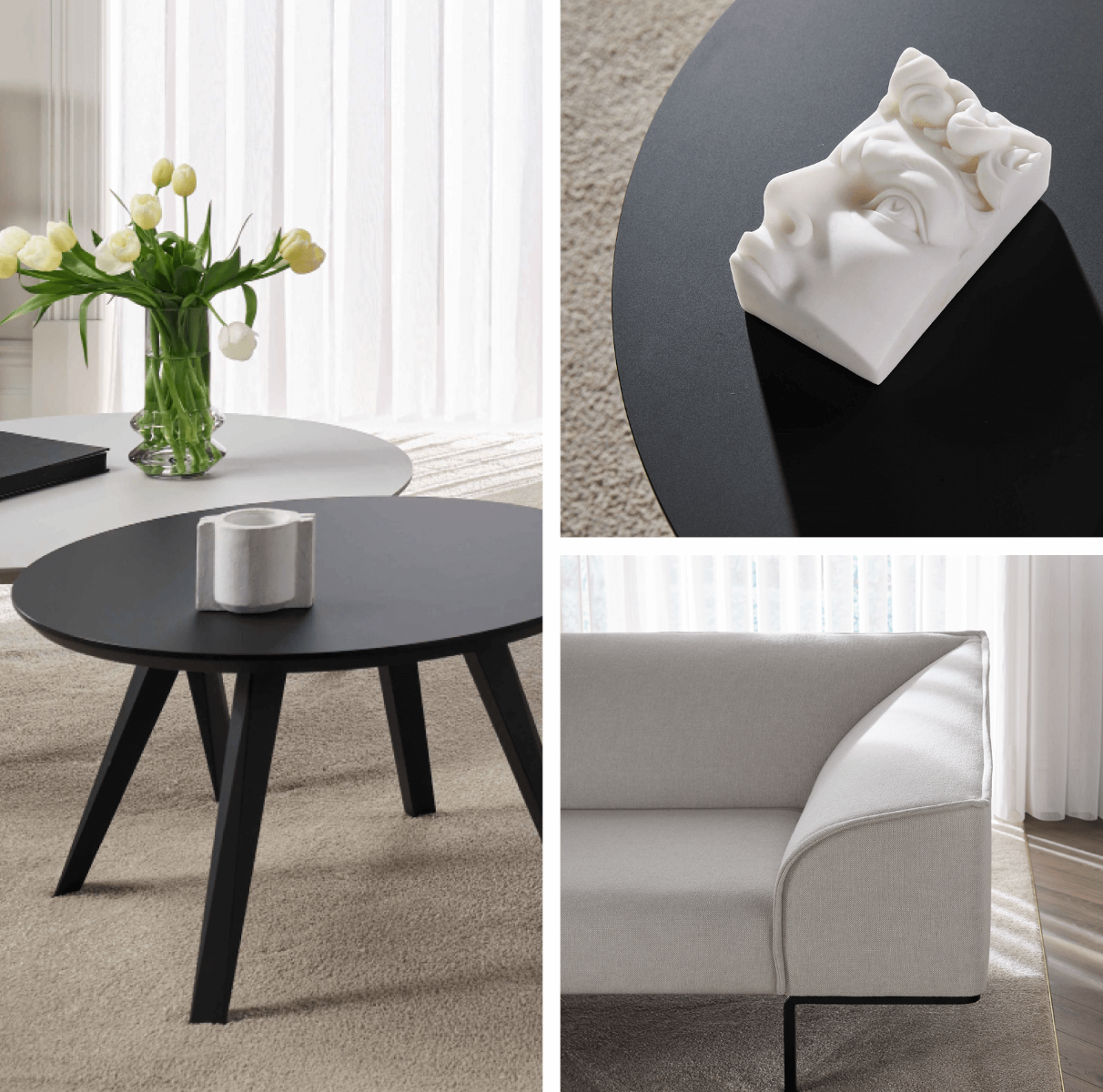 The desire for classic opulence is a mainstay of the decorating world, and the allure of classic decorating is threefold: firstly, style never goes out of fashion; secondly; buying once and buying well makes not just economic, but environmental sense. As Karl Lagerfeld famously quipped, "Black and white always looks modern – whatever that means."
Strong, clean graphic lines never go out of style. Yet, this latest incarnation of the monochromatic interior trend is more than sharp angles and dramatic contrasts. Its evolution stems from our urge for simplicity and symmetry, quality over quantity and in an increasingly hectic world, a sense of tranquillity and calm.

A simple palette of black, white and touches of grey, it has a timeless and sophisticated feel. But rather than the angular lines and harsh contrasts we usually associate with this aesthetic, today's version is soft and refined, with rounded lines, textural, natural touches and plenty of breathing space.
Get the Modern Mono Look
The Modern Mono home is extremely elegant, with attention to detail being paramount. Yet this seemingly simple black and white colour scheme belies the many layers that lie just beneath the surface. Floorboards are richly hued, but instead of being laid in straight lines, they are given a luxurious, and more traditional feel via the intricate herringbone and chevron patterns. It's a craftsman-built look that's been an indicator of luxury for centuries.
In a modern take on classic quarter-paned timber window and door frames, the new look is all about strong, black steel frames. These windows provide a striking border that contrasts beautifully with external greenery.
Walls are painted a crisp, fresh white, and window furnishings, although seemingly simple, have a luxe linen look. Fabrics are tactile and beautiful, and small details such as exposed seams and contrast stitching pack a powerful punch. Rooms have a basic palette of black and white, with hints of oak, brass, marble and green from indoor foliage. The best way to start is, of course, with the floors, as they create the basis for the Modern Mono look. After that, re-create the colour palette by choosing furniture pieces in black and white (and a little grey in between is lovely too).
Dining and coffee tables that feature strong, graphic lines will give the room real visual structure. Add texture with crisp linens, and accessorise with lots of black and white pieces, even adding a little bit of bling with some gold or brass.
How to complement the Modern Mono Trend
Carpet Court's Herringbone Laminate in Ferrara Oak was used as a feature floor in the dining room. Giving the elegance and durability required for modern life.
Carpet Court's incredibly soft yet durable twist pile 'Luxe Palette' in Honeysuckle was used in the sumptuous lounge, complementing the Hard Flooring in a good neutral, equally luxurious and classic, yet with a very contemporary feel.
The Modern Mono is underpinned by its elegance, and timeless style, so we chose the incredible new Veri Shades®, which are vertical blinds – but not as we used to know them. They hang to the floor, looking just like lovely generous curtains, yet the supple folds operate like blinds, and you pivot them to provide your ideal privacy, light and airflow control. Unlike the old verticals, there are no cords or chains at floor level for you to trip up on – in fact you can just walk through them and they will settle gently back into place. The look is crisp and refined, lending the room strong graphic lines without being too stark.
The beauty of the Modern Mono look is that it will work just as well in older or more contemporary homes. You don't need soaring ceilings or any other period architectura features to pull it off – it is all about palette and material choices. A grand suite of rooms or a smaller apartment could both equally benefit from beautiful herringbone or chevron floors, crisp white walls and luxe linen look blinds.
Styling tips for Modern Mono
A mixture of clean lines and rounded edges
Crisp linen look for window furnishings
Indoor plants used sparingly
Herringbone and Chevron Flooring
A simple monochromatic palette
Hints of oak, marble and brass
Keep artwork in theme with black and white prints
Get the Carpet Court Look
Herringbone Laminate in Ferrara Oak
VeriShades® in Net Soft White
Luxe Palette Carpet in Honeysuckle