RAW LUXE
Get inspired by the Raw Luxe Trend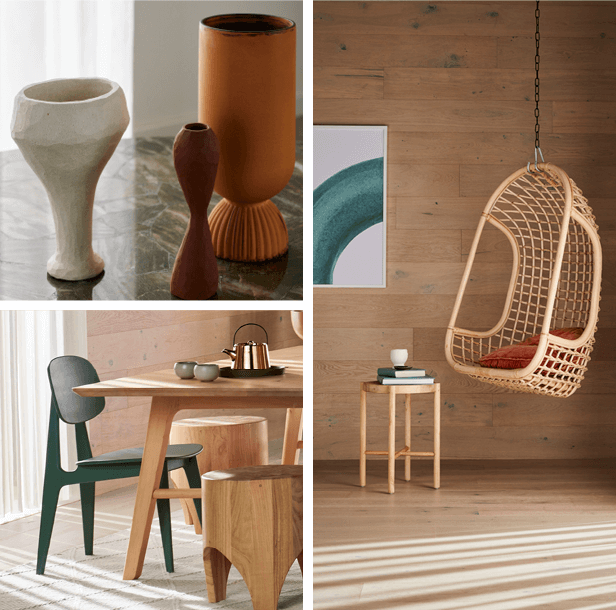 The Raw Luxe look is inspired by our desire to achieve a calmer, more tranquil existence in a world in which we are increasingly connected and bombarded with information and imagery, 24/7. So much of life these days is spent looking at the bright lights of the screens on our phones, computers, billboards and TV's. We live in an increasingly artificial world and it has awakened in many of us an almost primal need to switch off, to take a deep breath and appreciate the natural world around us.
As a result of these desires, there is a big movement in architecture and interior design towards using materials that are less refined, raw and 'unfinished' in appearance.  The Japanese philosophy of Wabi-Sabi has also inspired this look, where natural forms and imperfections are celebrated rather than hidden.
The Raw Luxe look, however, is by no means lacking in comfort or luxury. The look is pared back, but not spartan, and there is appreciation of quality over quantity. 
Get the Raw Luxe Look
The Raw Luxe look is a celebration of natural materials to create a calming, luxurious existence. The colour palette is gentle – think pale floorboards, natural white walls and subtle hints of light tan and green, and touches of dull gold or brass to add glamour. Other precious and rare materials, such as marble, granite and agate are also used sparingly.
The effect of this serene palette is to create a reprieve from the constant assault on our senses from noise, artificial light, pollution and stress. The Raw Luxe look is not jarring, as the colours are found in nature; surfaces are matte, rather than shiny; and natural texture is important, especially after touching screens and keyboards all day.
How to complement the Raw Luxe Trend
Carpet Court's Precinct Oak in Loire, an engineered timber in a wide board is design perfectly for the dining room. It is pale and gentle on the eyes, creating the perfect base for the chunky, sink-your-toes-in Carpet Court Colombo rug in a cream hue - a hand-woven loop pile with a diagonal pattern which adds texture and an extra tonal layer. 
Carpet Court's stylish chunky loop pile 'Hawksview' in Beechwood is perfect for the lounge room.  It is a wool carpet and is highly textured, so it's a delight to walk on. 
The Raw Luxe trend is all about gentle, natural beauty, so we chose the Carpet Court's Veri Shades®, which are vertical blinds, but not as know them. They hang to the floor, looking just like generous curtains, yet the supple folds operate like blinds, and you pivot them to provide privacy, light and airflow control. 
Unlike the old verticals, there are no cords or chains at floor level for you to trip up on – in fact you can just walk through them and they will settle gently back into place. 
This look is highly transportable given the core material palette - pale timber floors, dreamy curtains and chunky rugs. The high ceilings of an Edwardian or Victorian home will add an extra sense of elegance, whilst the exposed brick in a modernist home will work as another natural texture. A Queenslander or a Californian Bungalow, with their gentle flow of rooms and generous windows would also be a stunning space in which to create the Raw Luxe look. Apartment living would also benefit from the calm beauty of this trend.
Styling tips for Raw Luxe
Relaxed dining chair options in organic carved timber shapes
Low hanging cloth lanterns
Luxurious velvet pieces in muted the colours of nature
Wabi-Sabi and even slightly wonky, mis-shaped ceramics
Agate or other precious stone accent pieces
Dull gold or brassware in raw shapes
Artwork that is gentle on the eye in muted shades.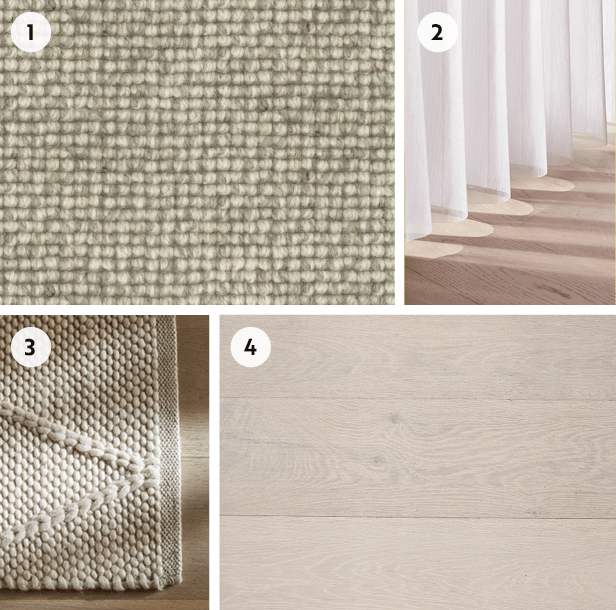 Get the Look