Explore our range of carpet colours
In selecting carpet as your flooring product, one of the hardest decisions will be which colour to choose, simply because there are so many. But the extensive range of carpet types and colours offered by Carpet Court means that you are bound to find exactly the right shade and tone to complement your home. As your carpets will provide many years of comfort, visual elegance and functionality, it is important to invest plenty of time in making the right decision. Carpet Court's friendly and knowledgeable staff will help you choose a carpet you will love and continue to enjoy well into the future.
 

Light Colours

Find inspiration with our light colour carpet ranges

 

 

Neutral Colours

Find inspiration with our neutral colour carpet ranges

 

 

Dark Colours

Find inspiration with our dark colour carpet ranges
What carpet colours can I choose from?
With so many carpet types, colours and fibres to choose from, Carpet Court are sure to have a carpet to perfectly complement your home and your décor while not compromising your active lifestyle.
Regardless of the fibre, texture and style carpet you choose, there will be many colour options within your preferred carpet collection. Consider the classic Affinity collection of hardwearing, twist pile carpets. Affinity is available in an incredible twelve different colours ranging from the cool, on-trend greys of Grey Ember, Grey Tweed, Morpheus and Inkwell to the elegant and chic tones of Alpacco, Drifting Dune and Wild Yukon. Natural Linen is a stunning natural shade set to enhance any home as is Winter Grey and Light Silver.
If your home enjoys an ocean aspect, the Coastal Hues collection of textured, wool carpets will provide a natural, casual style in keeping with your environment. Bring the beauty of nature's magnificent coastline indoors with the earthy shades of Bondi, Wineglass Bay or Sorrento. The Coastal Hues range offers eleven delectable colours in a durable, twist pile carpet.
With so many different carpets each in a range of colours, visiting our website as a first port of call may be the best way to narrow down your options. Peruse our huge range of carpets online in light, medium and dark shades and consider which will suit your home or business. Then call in to your nearest Carpet Court store to make your final choice.
What should you consider when choosing a carpet colour?
Assessing how a particular carpet colour will look and work in the room you intend to lay it is necessary if you want to avoid disappointment. In selecting a colour, you should give consideration to things like the amount of foot traffic from young children, sporty teenagers or tradesman husbands and whether you have pets that shed hair. A black dog on a cream carpet could have you reaching for the vacuum on a daily basis whereas a natural, earthy tone could mask some of the sand and dirt your young family inevitably bring inside. Some carpet styles and colours will better mask everyday wear than others, so find the one that suits your family and lifestyle.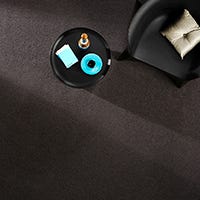 The amount of natural light your rooms receive is an important consideration as carpets will appear dark in a small, dark room and light in a large, bright or sunny room. If your carpets are going to receive direct sunlight, a synthetic carpet may offer increased resistance to UV exposure. Alternatively, if a wool carpet is your preference, consider appropriate sun-filtering window dressings for those rooms to prevent sun damage.
The type of pile also has an impact on the colour. For example, when light reflects off a twist pile yarn it can give off the impression of two different shades while a plush carpet delivers a uniform colour appearance. The loops within a textured carpet also create a light and dark effect, helpful in masking specks of dust and dirt.
How can I visualise what my new carpet colour will look like?
The knowledgeable consultant at your local Carpet Court store can offer in-depth discussion and expert information regarding the variations to carpet colour caused by lighting, room size and pile type so that you are better able to imagine how a particular carpet will look in your home.
Using our online style visualiser may also help to see how an expanse of carpet colour might look in a room.
What carpet colour will go with my house? 
In selecting a carpet to go with the style of your house, colour is not the only consideration. An elegant carpet will add beauty, style and comfort to any house, but the look – be it contemporary chic, traditional classic or out-there modern – can be created by the pile type and colour combined.
Consider one of our best-selling carpets, the Premier Soft collection. Styled for modern living, this durable synthetic carpet is available in plain, plush or twist types in twelve contemporary colours. When you combine each of those colours with either a plain, plush or twist styled fibre, you can get a range of different visual effects.
Discuss the geography, era and style of your house with a Carpet Court consultant to determine which colours will work best for you.
Where can I see the different carpet colours instore?
Your local Carpet Court store will have an extensive range of carpet samples for you to see and feel, making it easier for you to consider how your preferred colours will look in your own home. Use our online store locater to find your nearest store, or phone 1300 CARPET.