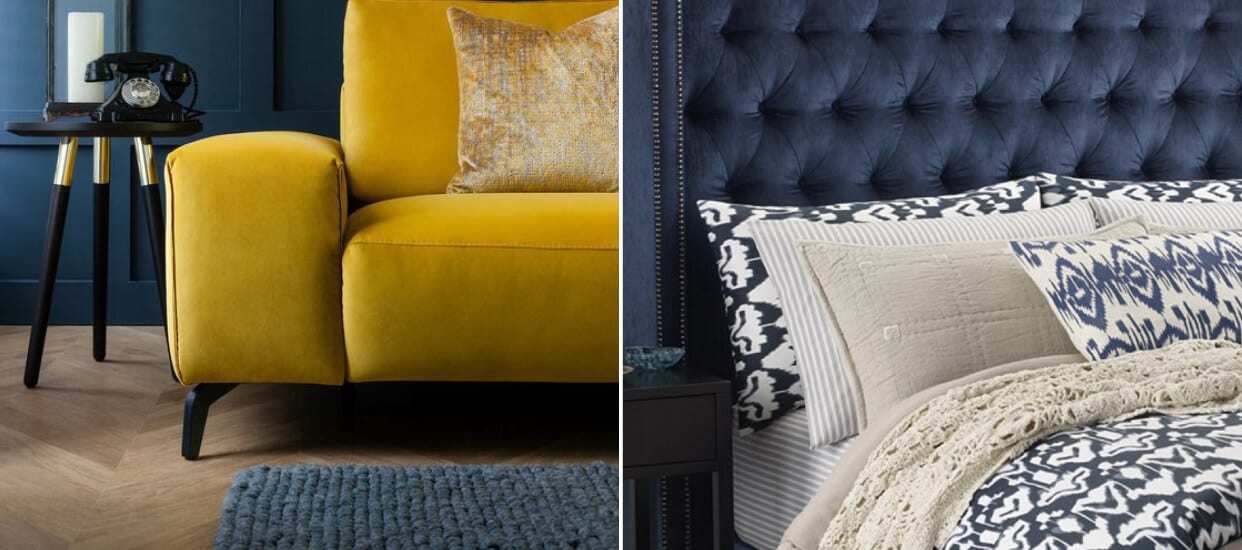 Shine Bright
Interior trends are like a pendulum, the next big thing is often a reaction to the last. One season it might be minimalism, the next overt detail. In recent times, we've seen pastel colours and grey tones and now we're beginning to see colour being dialled up in vibrancy and saturation in a naturally inspired way.
If you're searching for lustrous, deep and sophisticated colours this summer, you needn't look any further than gemstones. Emerald, ruby, sapphire and citrine are all simple primary colours with a depth and mystique that renders them truly luxurious.
These beautiful colours are finding their way into interiors and will continue to do so in a big way throughout summer 2017 and into 2018.
Here are some great ways to inject some gemstone glamour in to your space!
Large statement pieces of furniture can be elevated by covering them in rich, gemstone coloured velvets, while occasional chairs can also get the luxe-look through precious stone colours with a touch of sheen.
Soft furnishings are the perfect way to embrace this trend in an alternative way. Should a ruby coloured couch be too much of a bold statement for you, clusters of sapphire and citrine cushions will enrich and enliven the look of a neutral lounge setting or living space.
Velvet pairs perfectly with gemstone colours for beds, added to satin or silk providing the perfect lift to your sleep space.
More and more trends in flooring are also taking inspiration from natural gemstone hues, with some almost having a crown-jewel look and feel.
Art is another perfect way to make a statement. Crystalline forms look bright, colourful and eye catching, yet natural enough to tone down what can become an overwhelming feature.
Get the Carpet Court Look
Carpet | Floral Fields | Ocean Blue
Carpet | Floral Fields | Red Velvet
Kennedy Tulip Sofa Chair | Globewest
Gus Margot 3 Seater Sofa | Globewest
Darren Palmer | Blue Agate Sculpture | Myer
Greg Natale | South Beach Cushion | Myer
Designer Boys | Luxe Mineral V
Designer Boys | Luxe Mineral I