Bridge Carpet Court
119 Adelaide Rd,
Murray Bridge,
South Australia 5253
Store hours
8:30 am - 5:00 pm
Tuesday
8:30 am - 5:00 pm
Wednesday
8:30 am - 5:00 pm
Thursday
8:30 am - 5:00 pm
Saturday
9:00 am - 12:00 pm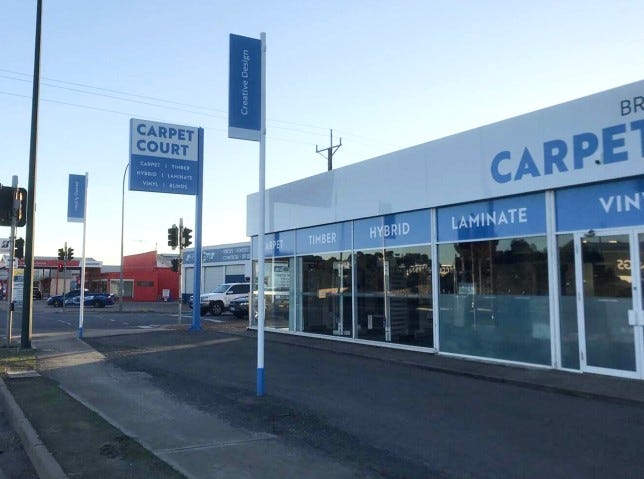 About Us

Carpet Stores in Murray Bridge

Experience the finest in carpet and flooring solutions at Bridge Carpet Court, your premier carpet store in Murray Bridge, South Australia. Discover our extensive range of products and services designed to meet your unique needs.

Top-quality Carpet and Flooring Solutions

At Bridge Carpet Court, we pride ourselves on offering top-quality carpet and flooring solutions. Our selection includes a variety of:

Each product is carefully chosen for its quality, durability, and aesthetic appeal. Whether you're looking for the soft comfort of carpet or the sleek elegance of timber flooring, we have the perfect option for you. We also offer a range of carpet tiles and hybrid flooring, providing a versatile and practical solution for any space. Our team of experts is always on hand to guide you through our extensive range, helping you find the perfect floor covering to suit your lifestyle and budget. Explore our diverse Carpet Collection.

Experts in Window Covering Solutions

Bridge Carpet Court is not just a flooring store. We are also experts in window covering solutions. Our team can help you choose the perfect window coverings to complement your new flooring and enhance the overall look of your home. From stylish blinds to elegant curtains, we have a wide range of options to suit every style and budget. We understand that window coverings are not just about aesthetics - they also play a crucial role in controlling light and providing privacy in your home. That's why we offer a comprehensive range of options, from light filtering to blockout curtains and blinds, ensuring that you can find the perfect solution for each room in your home.

Elevate Your Home With Eco-friendly Carpets

In today's world, sustainability is more important than ever. That's why we offer a range of eco-friendly carpets at our Murray Bridge store. These carpets are made from recycled or sustainable materials, offering the same comfort and style as traditional carpets but with a smaller environmental footprint. Elevate your home with our eco-friendly carpets and contribute to a greener future. Our eco-friendly range includes carpets made from ECONYL, a 100% recycled nylon waste material. These carpets are not only environmentally friendly but also soft, durable, stain-resistant, and easy to maintain, making them a perfect choice for busy households.

Book a Free Measure and Quote at Bridge Carpet Court

At Bridge Carpet Court, we believe in making the process of choosing and installing new flooring as easy as possible. That's why we offer a free measure and quote service. Simply visit our website or use our store locator to find our Murray Bridge store, and book your free measure and quote today. Our team of experts will come to your home, accurately measure your space, and provide a comprehensive quote for your chosen flooring solution. We can also provide advice on the best types of flooring for your space, taking into account factors such as foot traffic, sunlight exposure, and your personal style preferences.

Convenient Store Location and Opening Hours

Our store is conveniently located at 119 Adelaide Rd, Murray Bridge, SA 5253. We're open during convenient hours, making it easy for you to visit our showroom and explore our range of products. Whether you're in Adelaide or elsewhere in South Australia, we're just a short drive away.

Choose the Carpet Court Team in Murray Bridge

When you choose Bridge Carpet Court, you're choosing a team of experienced professionals who are passionate about flooring. We're proud to be one of the top carpet stores in Murray Bridge, and we're committed to providing our customers with the best service possible. From helping you choose the right flooring to providing expert installation, we're here to help every step of the way.
Services Available

Carpet

Timber

Hybrid

Laminate

Vinyl

Curtains & Blinds

Wall Panels

Qantas Points
Image Gallery
Promotions
FAQs

What types of flooring do you offer at the Bridge Carpet Court in Murray Bridge?

At Bridge Carpet Court in Murray Bridge, we offer a wide range of flooring options including carpets, commercial flooring and hybrid flooring. Each type comes in various styles and designs to suit different tastes and needs.

What types of eco-friendly carpets do you offer at your Murray Bridge store?

We offer a variety of eco-friendly carpets made from recycled or sustainable materials. These carpets are designed to be stylish, comfortable, and environmentally friendly. For more details on our eco-friendly carpet range, please visit our store, contact us directly online, or find our phone number online to give us a call.
Areas We Service

Bunbury, SA, 5266
Colebatch, SA, 5266
Deepwater, SA, 5266
Tintinara, SA, 5266
Avoca Dell, SA, 5253
Brinkley, SA, 5253
Burdett, SA, 5253
Chapman Bore, SA, 5253
Ettrick, SA, 5253
Gifford Hill, SA, 5253
Greenbanks, SA, 5253
Long Flat, SA, 5253
Mobilong, SA, 5253
Monteith, SA, 5253
Murrawong, SA, 5253
Murray Bridge, SA, 5253
Murray Bridge East, SA, 5253
Murray Bridge North, SA, 5253
Murray Bridge South, SA, 5253
Northern Heights, SA, 5253
Riverglades, SA, 5253
Riverglen, SA, 5253
Sunnyside, SA, 5253
Swanport, SA, 5253
Toora, SA, 5253
White SA, nds, SA, 5253
Willow Banks, SA, 5253
Woods Point, SA, 5253
Coonalpyn, SA, 5265
Field, SA, 5265
Wynarka, SA, 5306
Apamurra, SA, 5237
Milendella, SA, 5237
Palmer, SA, 5237
Sanderston, SA, 5237
Callington, SA, 5254
Caloote, SA, 5254
Monarto, SA, 5254
Monarto South, SA, 5254
Murray Bridge, SA, 5254
Mypolonga, SA, 5254
Pallamana, SA, 5254
Rockleigh, SA, 5254
Rocky Gully, SA, 5254
Tepko, SA, 5254
Wall Flat, SA, 5254
White Hill, SA, 5254
Woodlane, SA, 5254
Zadows Landing, SA, 5254
Carcuma, SA, 5301
Geranium, SA, 5301
Jabuk, SA, 5301

Moorlands, SA, 5301
Netherton, SA, 5301
Parrakie, SA, 5301
Peake, SA, 5301
Sherlock, SA, 5301
Wilkawatt, SA, 5301
Karoonda, SA, 5307
Marama, SA, 5307
Angas Valley, SA, 5238
Big Bend, SA, 5238
Bolto, SA, 5238
Bowhill, SA, 5238
Caurnamont, SA, 5238
Claypans, SA, 5238
Cowirra, SA, 5238
Five Miles, SA, 5238
Forster, SA, 5238
Frahns, SA, 5238
Frayville, SA, 5238
Julanka Holdings, SA, 5238
Lake Carlet, SA, 5238
Mannum, SA, 5238
Nildottie, SA, 5238
Old Teal Flat, SA, 5238
Pellaring Flat, SA, 5238
Pompoota, SA, 5238
Ponde, SA, 5238
Port Mannum, SA, 5238
Punthari, SA, 5238
Purnong, SA, 5238
Rocky Point, SA, 5238
Teal Flat, SA, 5238
Walker Flat, SA, 5238
Wongulla, SA, 5238
Younghusband, SA, 5238
Younghusband Holdings, SA, 5238
Angas Plains, SA, 5255
Belvidere, SA, 5255
Bletchley, SA, 5255
Finniss, SA, 5255
Gemmells, SA, 5255
Hartley, SA, 5255
Highland Valley, SA, 5255
Lake Plains, SA, 5255
Langhorne Creek, SA, 5255
Mount Observation, SA, 5255
Mulgundawa, SA, 5255
Nalpa, SA, 5255
Red Creek, SA, 5255
Salem, SA, 5255
Sandergrove, SA, 5255
Strathalbyn, SA, 5255

Tooperang, SA, 5255
Willyaroo, SA, 5255
Woodchester, SA, 5255
Lameroo, SA, 5302
Ngarkat, SA, 5302
Copeville, SA, 5308
Galga, SA, 5308
Mantung, SA, 5308
Mercunda, SA, 5308
Perponda, SA, 5308
Elwomple, SA, 5260
Tailem Bend, SA, 5260
Parilla, SA, 5303
Borrika, SA, 5309
Halidon, SA, 5309
Mindarie, SA, 5309
Sandalwood, SA, 5309
Cromer, SA, 5235
Eden Valley, SA, 5235
Flaxman Valley, SA, 5235
Mount PleaSA, nt, SA, 5235
Springton, SA, 5235
Taunton, SA, 5235
Coorong, SA, 5264
Meningie, SA, 5264
Meningie East, SA, 5264
Meningie West, SA, 5264
Salt Creek, SA, 5264
Waltowa, SA, 5264
Karte, SA, 5304
Kringin, SA, 5304
Peebinga, SA, 5304
Pinnaroo, SA, 5304
Bakara, SA, 5354
Bakara Well, SA, 5354
Fisher, SA, 5354
Marks Landing, SA, 5354
Naidia, SA, 5354
Swan Reach, SA, 5354
Ashville, SA, 5259
Jervois, SA, 5259
Kepa, SA, 5259
Lake Albert, SA, 5259
Lake Alexandrina, SA, 5259
Malinong, SA, 5259
Narrung, SA, 5259
Naturi, SA, 5259
Point Mcleay, SA, 5259
Poltalloch, SA, 5259
Tailem Bend, SA, 5259
Wellington, SA, 5259
Wellington East, SA, 5259