Kempsey Carpet Court
105 Smith Street
Kempsey,
New South Wales 2440
Store hours
9:00 am - 4:00 pm
Tuesday
9:00 am - 4:00 pm
Wednesday
9:00 am - 4:00 pm
Thursday
9:00 am - 4:00 pm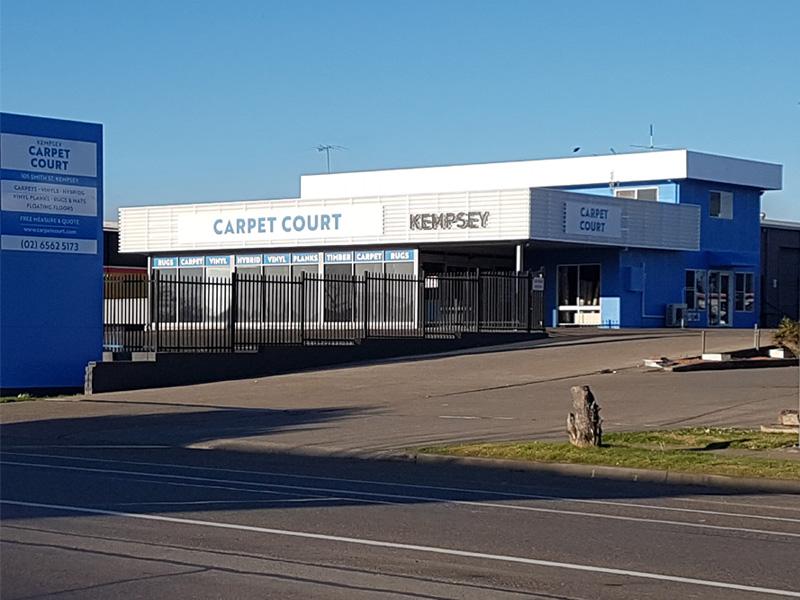 About Us

CARPET STORES IN KEMPSEY

For NSW flooring options that meet every need and budget, you can count on Kempsey Carpet Court. Our store has the latest carpet and hard flooring products in every type and colour to add that finishing touch.

Shop our wide range of high-quality flooring

Whether you're renovating a heritage home or designing a contemporary space, each flooring type offers unique benefits, ensuring you find the perfect match for your lifestyle and design preferences.

Discover our flooring range, including:

Visit us and let our expert team guide you in making the ideal flooring choice for your project.

See what's trending in carpets to elevate your space

Carpet is one of the most popular floor coverings in Australia. Shop soft and luxurious carpet types for any room with natural and synthetic carpet fibres in a stunning range of carpet colours. We have eco-friendly carpet options that are stain-resistant, crush-resistant and fade-resistant, 100% wool carpets that are naturally moisture-repellant and allergy-friendly, nylon carpets and more in a plush, loop and twist pile. You can even find carpet cleaning tips on our website!

We have a range of timeless options for any home, including:

Browse our range of commercial flooring options for your business

Refresh your business with new commercial flooring that combines performance with practicality and on-trend style. Our carpet tiles are crush-resistant for heavy traffic areas like schools and libraries while also being soft, stain-resistant and easy to keep clean. We also have commercial vinyl flooring with vinyl planks that mimic timber floorboards that look stunning installed in offices and entrances as well as seam-free vinyl sheets that are easy to keep clean and again, perfect for schools, libraries, and office workspaces.

Book a free measure and quote with us today

It's easy to book your free measure and quote through the website. Simply click on the Book Online button and fill out the form with your details. Our team will come to your address to measure the space, provide a quote and show you samples to view and feel. We'll install it for you too for a beautiful result that's long-lasting and professional.

Our opening hours and how we'll be able to help you

We're open Monday to Friday from 9 am to 4 pm. Our friendly team can help you to select flooring that meets your needs and lifestyle from a huge range of designs and colours. We also offer flooring installation services for a professional finish.
Services Available

Carpet

Timber

Hybrid

Laminate

Vinyl

Qantas Points
Image Gallery
Promotions
FAQs

Will I be able to find the right flooring solution for my project?

Carpet Court is Australia's biggest flooring store and our showroom on 105 Smith St is packed full of trending flooring products to enhance the home and business. From wool carpet to hard flooring options including hybrid flooring, timber flooring and laminate flooring, we have a high-performing product to suit your unique needs and lifestyle. Our experts will help you to find the right flooring solution for any room.

We're located in Kempsey in the Mid North Coast region of New South Wales, close to towns like South West Rocks and Crescent Head.

Why should I choose to shop here?

Kempsey Carpet Court is a trusted family owned flooring retailer who specialises in helping homeowners create dream spaces in their home or business. We have years of industry experience with design and installation and can assist you in selecting affordable products that not only meet your practical needs but enhance your room with colour, texture and design.

Visit our flooring centre in Kempsey or use the Store Locator to find your nearest Carpet Court. You can also view the entire Carpet Court catalogue online, check out the FAQ page for popular questions or contact us for more information on anything you need to know.
Areas We Service

Arakoon, NSW, 2431
Jerseyville, NSW, 2431
South West Rocks, NSW, 2431
Aldavilla, NSW, 2440
Austral Eden, NSW, 2440
Bellbrook, NSW, 2440
Bellimbopinni, NSW, 2440
Belmore River, NSW, 2440
Burnt Bridge, NSW, 2440
Carrai, NSW, 2440
Clybucca, NSW, 2440
Collombatti, NSW, 2440
Comara, NSW, 2440
Corangula, NSW, 2440
Crescent Head, NSW, 2440
Deep Creek, NSW, 2440
Dondingalong, NSW, 2440
East Kempsey, NSW, 2440
Euroka, NSW, 2440

Frederickton, NSW, 2440
Gladstone, NSW, 2440
Greenhill, NSW, 2440
Hampden Hall, NSW, 2440
Hat Head, NSW, 2440
Hickeys Creek, NSW, 2440
Kempsey, NSW, 2440
Kinchela, NSW, 2440
Lower Creek, NSW, 2440
Millbank, NSW, 2440
Mooneba, NSW, 2440
Moparrabah, NSW, 2440
Mungay Creek, NSW, 2440
Old Station, NSW, 2440
Pola Creek, NSW, 2440
Rainbow Reach, NSW, 2440
Seven Oaks, NSW, 2440
Sherwood, NSW, 2440
Skillion Flat, NSW, 2440

Smithtown, NSW, 2440
South Kempsey, NSW, 2440
Summer Island, NSW, 2440
Temagog, NSW, 2440
Toorooka, NSW, 2440
Turners Flat, NSW, 2440
Verges Creek, NSW, 2440
West Kempsey, NSW, 2440
Willawarrin, NSW, 2440
Willi Willi, NSW, 2440
Wittitrin, NSW, 2440
Yarravel, NSW, 2440
Yessabah, NSW, 2440
Mid North Coast Mc, NSW, 2442