Lakes Entrance Carpet Court
22 Princes Hwy,
Lakes Entrance,
Victoria 3909
Store hours
8:00 am - 5:30 pm
Tuesday
8:00 am - 5:30 pm
Wednesday
8:00 am - 5:30 pm
Thursday
8:00 am - 5:30 pm
Saturday
9:00 am - 1:00 pm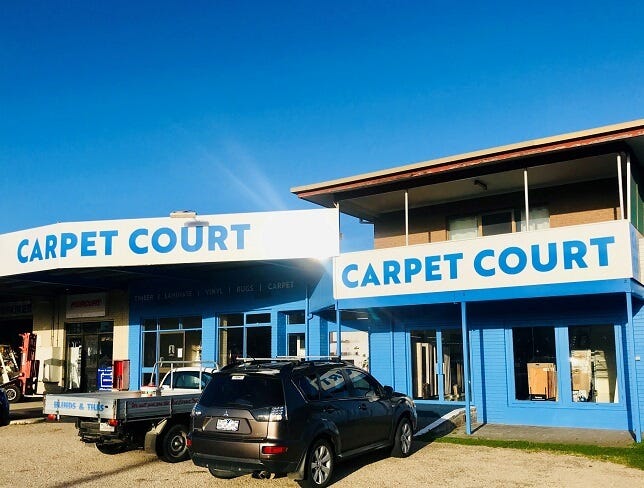 About Us

Carpet stores in Lakes Entrance

Carpet Court Lakes Entrance, a standout among carpet stores in Lakes Entrance, Australia, offers a diverse selection of flooring solutions. With a commitment to quality and style, we cater to both residential and commercial needs, ensuring every space can be transformed with the perfect floor covering.

In the heart of the Australian landscape, Lakes Entrance Carpet Court stands as a beacon for quality flooring coverings and carpet floor tiles. Offering an extensive range of flooring solutions, we cater to the unique needs of every customer, ensuring your space reflects your personal style and meets your functional requirements.

A local favourite for carpet solutions

At Carpet Court Lakes Entrance, VIC, we pride ourselves on our diverse carpet range. We cater to all tastes, needs, and budgets, providing an array of options from plush carpets and wool carpets, to loop pile carpets and synthetic carpets. Our selection ensures that every customer can find the perfect carpet to enhance their space.

Here, you'll find:

Whether you're renovating your home, updating your office, or simply looking to refresh your decor, our expert team is here to guide you through our vast selection.

Custom rugs tailored to your space

We believe that every space deserves a touch of uniqueness, and our selection of rugs gives any space the personality it deserves. In addition to that, we offer custom rugs allowing you to tailor your flooring to your specific needs.

Choose from a variety of:

Whether you're looking for a statement piece for your living room or a cosy rug for your bedroom, our team is ready to assist you in creating a piece that's truly one-of-a-kind.

Explore the versatile, durable flooring range

Beyond carpets, our Lakes Entrance store offers a wide range of practical and resilient flooring options. Each flooring type comes with its unique needs, and with something for everything, you'll be able to find the perfect flooring solution.

Our range includes:

No matter whether you're looking for vinyl plank flooring or artificial grass or carpet blinds and tiles, visit us on Princes Highway to explore our collection and find exactly what you need.

Commercial carpet ideal for any office

Businesses in Lakes Entrance, VIC, can rely on Carpet Court for commercial carpets that combine style, durability, and value. Our commercial flooring range includes options that can withstand high traffic, ensuring your office looks professional and inviting for years to come.

Our commercial range includes:

Expert advice for your unique needs in Lakes Entrance VIC

Every space is unique, and so are your flooring needs. That's why our expert team in Lakes Entrance, VIC 3909 is ready to provide tailored advice to help you make the best choice. We're here to guide you from selecting the right material and colour to understanding the care and maintenance (such as carpet cleaning) of your chosen product.

We believe in making your journey as smooth as possible, and that starts with providing you with the right information and guidance. Book a free measure and quote for a consultation with one of our experts today and use our store locator to find us situated near 22 Princes hwy, Lakes Entrance, next to United petrol station.

Does Carpet Court Lakes Entrance offer eco-friendly carpet?

We offer a range of eco-friendly carpet options that are made from regenerated nylon materials. These carpets offer a green alternative to eco-conscious households without compromising on quality, comfort, or style.

Where is the Carpet Court store located in Lakes Entrance, VIC?

Our store is conveniently located at 22 Princes Hwy, Lakes Entrance, Victoria 3909. We're easily accessible and ready to help you wherever we can.
Services Available

Carpet

Timber

Hybrid

Laminate

Vinyl

Curtains & Blinds

Rugs

Wall Panels

Qantas Points
Image Gallery
Promotions
FAQs
Areas We Service

Eagle Point, VIC, 3878
Boole Poole, VIC, 3880
Ocean Grange, VIC, 3880
Paynesville, VIC, 3880
Raymond Island, VIC, 3880
Nicholson, VIC, 3882
Brumby, VIC, 3885
Bruthen, VIC, 3885
Buchan, VIC, 3885
Buchan South, VIC, 3885
Butchers Ridge, VIC, 3885
Gelantipy, VIC, 3885
Mossiface, VIC, 3885
Murrindal, VIC, 3885
Suggan Buggan, VIC, 3885
Tambo Upper, VIC, 3885
Timbarra, VIC, 3885
W Tree, VIC, 3885
Wiseleigh, VIC, 3885

Toorloo Arm, VIC, 3909
Wulgulmerang, VIC, 3885
Wulgulmerang East, VIC, 3885
Wulgulmerang West, VIC, 3885
Yalmy, VIC, 3885
Lake Tyers, VIC, 3887
Nowa Nowa, VIC, 3887
Wairewa, VIC, 3887
Bendoc, VIC, 3888
Bete Bolong, VIC, 3888
Bete Bolong North, VIC, 3888
Bonang, VIC, 3888
Brodribb River, VIC, 3888
Cape Conran, VIC, 3888
Corringle, VIC, 3888
Deddick Valley, VIC, 3888
Delegate River, VIC, 3888
Goongerah, VIC, 3888
Haydens Bog, VIC, 3888

Jarrahmond, VIC, 3888
Marlo, VIC, 3888
Nurran, VIC, 3888
Orbost, VIC, 3888
Simpsons Creek, VIC, 3888
Tostaree, VIC, 3888
Tubbut, VIC, 3888
Waygara, VIC, 3888
Wombat Creek, VIC, 3888
Metung, VIC, 3904
Kalimna, VIC, 3909
Kalimna West, VIC, 3909
Lake Bunga, VIC, 3909
Lake Tyers Beach, VIC, 3909
Lakes Entrance, VIC, 3909
Nungurner, VIC, 3909
Nyerimilang, VIC, 3909