Heather Nette King talks through the benefits of natural wood finishes for your home.
Which flooring products would you choose to achieve a natural timber look in your home, and why?
A: The best way to achieve a natural timber look in your home is (unsurprisingly) to use authentic, natural timber. However, there are other materials that can create the same look and feel of natural timber in your home, such as engineered timbers, laminates, vinyls, and timber-look hybrid tiles.

What are the benefits and strengths of these products?
A: Engineered timber floors use a layer of natural hardwood beneath layers of protective coating, making it extremely durable. Laminate flooring is an affordable alternative to real timber as it replicates the look of woodgrain while using more budget-friendly materials. Vinyl planks are a more affordable alternative again as they are created from a synthetic, and timber-look hybrid tiles offer water-resistance and an easy DIY installation process.

There are many colourways/tones when it comes to natural wood - explain what style of home suits each colourway.
A: Trends and fashions often dictate which styles suit certain types of homes. Generally, lighter shades will suit coastal homes whereas darker shades will create stunning outcomes in more traditional spaces. However, every colour in between can be applied beautifully in conjunction with a well thought out design scheme.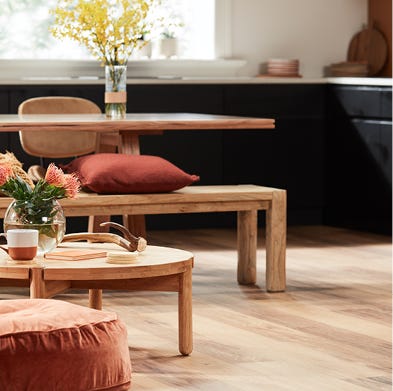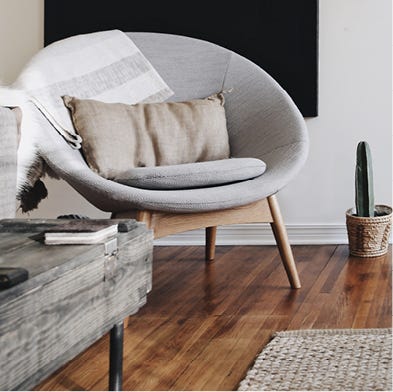 What mood/look/feel do natural wood finishes create in a home?
A: More textural and less processed timbers, like natural wood, are perfect for high-traffic family areas, offering a sense of comfort. Natural wood that is applied to walls and ceilings work in a rural, alpine, or beachside home, and when used for furniture and cabinetry, it also conveys an air of solidity and prestige.

What role does natural wood play in creating architectural interest and texture in a space?
A: There are many ways in which we can incorporate natural wood into our home to create architectural interest and texture. Drama can be created through daring architectural timber designs; comfort and cosiness can be established by applying it to walls, ceilings, and floors; tradition can be honoured using age-old timber turning techniques; and texture can be visually enhanced through the selection of rugged timbers.

What are some of the benefits of glue down vs floating for installation?
A: Floating floors are often easier to install as they have a simple click-together installation system. With glue-down floors, the installation process is more time-consuming and costly, but the greatest benefit is that the installation prevents potential movement in the floor over time and feels solid and luxurious underfoot.
In regard to flooring, how does the plank width, length and pattern in timber flooring impact a space?
A: Laying wide floorboards reduces joins between boards, creating a less detailed look which makes a small room feel larger. Long boards will also draw the eye along the length of a room, creating the illusion of more space. Knots and other naturally occurring marks in timber will also impact the style of the room. This timber has a more rustic appeal so will look best in relaxed homes, whilst timber grains with a very fine appearance will add elegance to more formal spaces.

What is the cleaning/maintenance process like for timber flooring?
A: Timber floors are hard wearing and require little maintenance. They should be kept free of dust and dirt by regularly sweeping or vacuuming. If mopping is required, use a slightly moist microfibre mop and always refer to the manufacturers' specific guidelines.

When using natural wood finishes in your home, do you recommend using them throughout, or can it be highlighted in just one space?
A: Natural wood finishes can look great in abundance, but also work beautifully with many other finishes such as tiles, plaster effects, paint, laminate, glass and steel or metal – timber really is the most versatile of materials.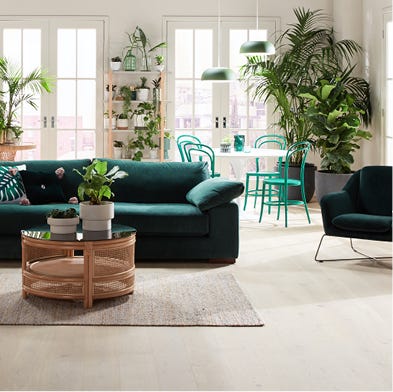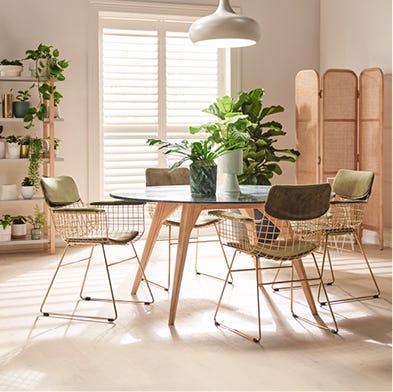 Are there any environmental benefits of using natural wood finishes/timber flooring?
A: Using any natural material will immediately help our environment and your living environment. Being an organically occurring material, it will undergo far fewer production processes, with many natural timbers now grown in responsibly managed forests. Timber stores carbon throughout its lifecycle, which will help offset any emissions created during the manufacturing process.

What are your tips for sticking to your budget when achieving a natural wood finish look through flooring?
A: Start by researching the cost of different natural wood floors. Speak to a Carpet Court expert and obtain a comprehensive quote that includes installation – that way you can ask any questions about the benefits of timber flooring and ensure you're getting the best possible outcome whilst sticking to your budget.

Aside from flooring, what are the easiest ways to incorporate natural wood finishes into your home?
A: Natural timber wall panels can lend a warm and cosy look to living spaces, with panelled or battened ceilings creating a feeling of strength and stability. Cabinetry, benchtops, and storage areas make beautiful statement features when created from natural wood, and timber furniture, whether modern or traditional, it will always be a popular interior option.
NEED MORE INSPIRATION?
Our collaborators take you through their renovation journey.