As a substantial and long-term investment in your home or commercial premises, choosing new flooring isn't a decision to be made lightly. Aside from choosing a flooring product which you love the look of and meets your budget, you should also consider how well suited each flooring type is to your home or office environment. For example, you might fall in love with a plush, pure wool carpet but if you have pets and young children you won't love it for long.
Items 1-16 of 61 View All
Items 1-16 of 61 View All
How do I choose flooring?
Canberra homes experience quite a variation in temperature from very hot summers to freezing cold winters, so floors with good insulative properties will work well for you.
Also consider your home design and which floor areas you are covering. In modern open-plan environments waterproof flooring such as Carpet Court's range of hybrid floating floors are a great option as they can enhance the spacious feel that comes with the seamless flow of open plan living. Hybrid floors are waterproof and can be laid throughout the home including wet areas like laundries and bathrooms.
For sensual and highly tactile appeal you can't go past a beautifully luxurious wool or synthetic fibre carpet in traditional or contemporary design, while authentic timber flooring adds timeless appeal and durability to both traditional and modern Canberra homes.
Chat with the experienced and helpful team at your local Carpet Court store and browse the wide range of flooring products including luxury vinyl planks, hybrid, timber and vinyl flooring, laminate flooring and stunning carpets to ensure you choose the right flooring for your property.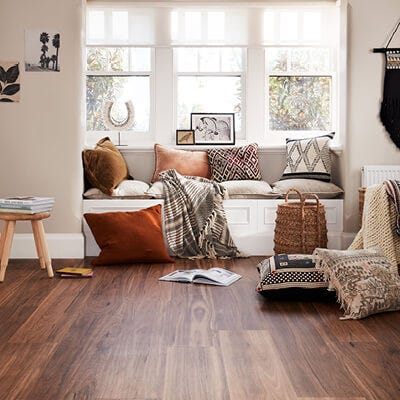 Is laminate flooring waterproof?
Most laminate floors are not 100% waterproof and as such are not recommended for wet areas of the home. However, some specific laminate products such as Aquastop AC5 are highly water resistant and manufactured to withstand moisture from minor household spills and pet accidents for at least 72 hours.
Other laminate floors such as Godfrey Hirst's Elegant XL do carry a water resistance warranty which covers spills as long as they are cleaned up within a specified time period, as long as the floors are installed in accordance with the Godfrey Hirst 'Laminate Wet Area Installation' instructions.
Where can I buy flooring in Canberra?
As the largest flooring specialist in the country with over 200 locally owned and operated stores, it isn't hard to find a Carpet Court store near you in Canberra. Enter your postcode or suburb in the handy store locator to find the nearest stunning Carpet Court showroom to your Canberra location.
We don't want to spoil the surprise, but when you browse Carpet Court's flooring range you may also find a fantastic selection of window blinds, wall panels and floor rugs to complete a fresh new look in any room of the house.
Does Carpet Court install flooring in Canberra?
Carpet Court's expert team would love to install fabulous new flooring in your Canberra home or business premises. Flooring installation is all part and parcel of the fantastic service we provide. We can even remove and dispose of your old flooring if necessary, and shift your heavy furniture for a small fee too! Just ask us for a comprehensive free measure and quote and we can get the ball rolling.
If you decide that floating floors are a DIY project you're willing to tackle, don't worry, we can provide the advice you need to do the job yourself. But hey, why not make life easier by sitting back and relaxing while our fabulous team ensure that your luxurious new floors are installed with a professionally guaranteed finish.
Call in and chat with the friendly team at your local Canberra Carpet Court store today and arrange your free, in-home measure and quote. You can also call us on 1300 CARPET or book it online.