Heather Nette King with Dulux talks through creating the perfect kitchen: How to select the right floor for the heart of your home
Selecting the right flooring for your home is a major decision, especially in the kitchen. After all, kitchen flooring is probably the most hardworking surface in the home and needs to withstand spills, potential stains, and foot traffic. So here are my top five tips on how to create the perfect kitchen and select the right flooring for the heart of your home.
Consider the space
Where is your kitchen located? Whether you're working with an architect or designer to create your new kitchen, or a keen DIY-er who wants to give their kitchen an update, this is a question that must always be considered. For a kitchen that is part of a beautiful, big family space, the stunning wide floorboards in the Korlok hybrid range are my top pick. The width of the boards gives a luxurious feel, and the Washed Butternut colour is perfect for a contemporary home. If it's a smaller, dedicated kitchen, then select a colour that suits the style of your cabinetry, like the Laneway Vinyl in Natural Oak, featured in the beautiful kitchen make-over using Dulux paint (pictured).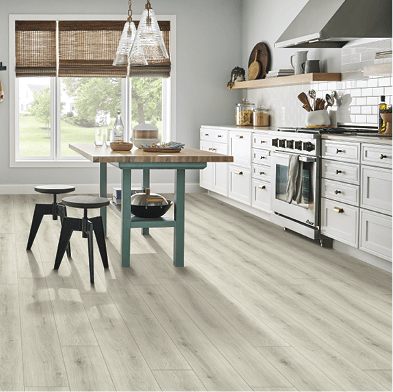 Selecting the right material
Not all cooks are created equal – and neither are all kitchens. Some are kitchens combined with Euro style laundries, and some are simply there to give the coffee machine a home. How you intend to use your kitchen must be a serious deciding factor in your floor selection process. If you're looking for low-maintenance, easy to clean, hardwearing attributes, then the Burke and Wills vinyl planks will be your best bet. A great all-rounder in the colour stakes is the Carpentaria Spotted Gum which will work with both traditional and contemporary kitchen designs.
Special qualities
Wonderful technological advances have resulted in genius new flooring with special qualities, such as Carpet Court's Empower Range. It's a great option for those looking for a hardwearing surface that can cope with the occasional water spill. The Empower range's core is made from Magnesium Oxide (MgO) - a lightweight material commonly used in construction because of its strength and resistance to both fire and moisture. MgO is an inert material, meaning mould, mildew and bacteria are all unable to survive on its surface – making it the ideal flooring for a kitchen and laundry. Empower also features Diamond 10 technology – a patented innovation that uses cultured diamonds to provide scratch, stain, and scuff resistance.
Selecting the right colour
When considering the colour and style of your new flooring, always think about:
The existing style of the whole home – is it traditional or contemporary?
Does the room get a lot of natural light and does this matter to you?
Are the kitchen cabinets and benchtops a certain style?
If you're sold on the idea of strength and versatility and are looking for a floor that captures the natural beauty of timber, while having the best attributes of laminate and vinyl flooring, then look to the Athena Range of hybrid flooring. There are twelve colours to select from – light greys, dramatic darker greys, natural earthy tones, and fresh pale oaks.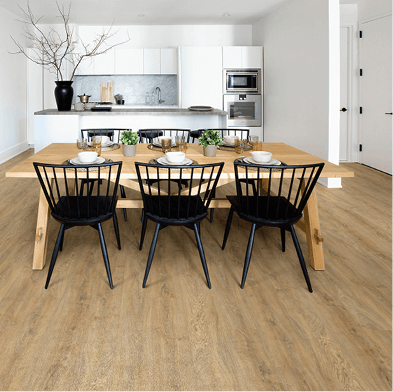 Budget considerations
I like to put flooring at the top of my budgeting considerations – because when you think about it, floors are the most highly used feature of a home. So, think about your overall spend, consider increasing your floor allocation and decreasing the other more negotiable areas. However, if your budget calls for some power-packed value for money, the Native Collection of vinyl floors will serve up the perfect kitchen every time. With each plank featuring intricate knots and grain detailing inspired by the beauty of native Australian wood, it's a sophisticated option that will add a touch of luxury to your kitchen. I'm a little obsessed with the moody drama of the Black Caviar colourway, but a great all-rounder, and my overall recommendation would be Alpine Ash.
NEED MORE INSPIRATION?
Our collaborators take you through their renovation journey.