---
It's easy to add immense value, style and fabulous functionality to your home with the range of timber flooring options from Carpet Court. What's not quite as easy is deciding which type of flooring is the perfect one for your home, budget and lifestyle.
KNOWING YOUR TIMBER FLOORS
Timber floors can be installed by the floating floor method where planks click and lock together, seemingly to 'float' above the subfloor, or by directly adhering the timber floorboards (engineered or solid) to the subfloor using specialised adhesives which is commonly referred to as a Direct Stick installation. 'Floating floors' and 'timber floors' are terms loosely used to describe a range of timber flooring products. Use our Timber Flooring Buyer's Guide to clear up the confusion and know which type of timber flooring is right for you.
TYPES OF TIMBER FLOORING
As opposed to laminate flooring, vinyl flooring and hybrid flooring which resemble the appearance, sound and feel of authentic timber floors, the term 'timber flooring' generally refers to timber flooring products such as:
Solid timber floors
Engineered timber floors
Parquetry floors
While all types of timber floors offer the beautifully luxurious aesthetic of natural wood floors in a variety of stunning colours and woodgrain textures, it's important to be aware of the different types of timber floors in order to choose the right floor for your home.
TIMBER FLOORING OPTIONS
1. Solid timber flooring
A timeless type of floor covering and a popular choice for hundreds of years, solid timber flooring best describes solid wood floorboards which are nailed into place and fixed to the subfloor.
Typically, the solid hardwood floors which are featured in old and new homes throughout Australia are made from Australian and International wood species such as Spotted Gum, Jarrah, Pine or Oak.
Solid wood floor coverings are considered luxury floors in comparison to other forms of hardwood flooring, partly due to the higher costs of both product and installation. Solid timber floorboards require periodic sanding and polishing to restore shine and lustre which dulls with wear and tear.
Solid Timber Floors are very sensitive to moisture and humidity in their environment, so the more popular choice these days is the more stable engineered timber flooring.
2. Engineered timber flooring
Cleverly designed to provide the greatest durability and resistance to issues such as expansion and contraction of boards, warping and swelling, engineered wood flooring looks, feels, and sounds just like solid timber planks. The main difference? These floors have a layered construction and offer a different price point to solid wood floors, partly due to cheaper installation costs.
Versatile and resilient engineered timber flooring is designed with a layered construction in a range of plank widths and lengths. Beneath multiple layers of protective coating and water-resistant sealant sit a strip of real wood, commonly Oak, Spotted Gum, Brushbox, Ironbark, Jarrah or Blackbutt. Beneath the real wood layer are core layers providing the floor with stability.
Different core layers:
The substance of these core layers can vary from manufacturer to manufacturer and product to product.
1. Some engineered timber floors are constructed with bonded core layers of plywood. These are typically used with wood species, which boast natural strength and stability such as Oak.
2. Other engineered wood floors are designed using core layers of Hevea rubberwood. Hevea is sometimes used with premium timbers such as Spotted Gum, providing it with more core stability and protection against warping.
3. Parquetry floors
Timeless, elegant parquetry floors make a statement in any home. Boasting historic French origins, the traditional parquetry floors use many small pieces of real wood to create zig-zag patterns, made from luxurious wood species with rich textures such as Cherry, Oak, Mahogany and Walnut.
Carpet Court's distinctive Chevron and Herringbone floors in timber (with a laminate flooring option) reproduce the luxurious visual appeal of parquetry flooring with a stylish contemporary flair. These Chevron and Herringbone products are also available in authentic Australian species timbers such as Spotted Gum and Blackbutt.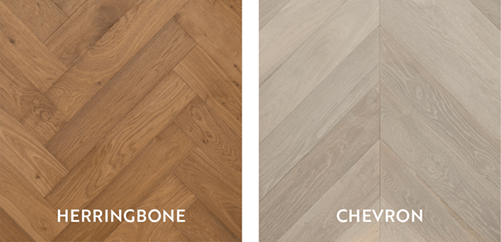 HOW TO CHOOSE THE BEST TIMBER FLOORING




FOR YOUR HOME?
Now that you're aware of the differences, consider the following factors when choosing the perfect timber flooring to provide practicality, timeless style, and resale value to your property:
Budget - the helpful and knowledgeable team at your local Carpet Court store can determine which flooring products will fit best with your budget. Alternatively, you can use the website to enter an approximate room size and obtain an estimate of the material costs of individual flooring products.
Home environment - Engineered timber floors are more dimensionally stable in changing climatic conditions and humidity.
Lifestyle - If you have a busy lifestyle, you want floors that are quick and easy to clean. With a variety of finishes ranging from matte to gloss, hardwearing timber floors are a fantastic flooring option, particularly for the high traffic areas in busy family homes.
Interior style - In a wide range of popular colours, our wood floors in engineered timber and parquetry will perfectly complement any interior design from heritage homes to ultra-modern apartments. Popular choices for engineered timber floors include Spotted Gum, European and Australian Oak, Blackbutt and Jarrah.
Location - If you want the seamless look of continuous flooring throughout the home, engineered timber floors are ideal. For rooms that receive direct sunlight remember to use good quality blinds and rugs to protect your wood floors.
Design - Timber flooring with its wide range of colours and tone options also include different styles such as, wide boards and longboards, bevelled edges and straight-cut edges, smooth low-key woodgrain patterns vs. busy woodgrains - all creating different visual effects in a room.
CHOOSING THE BEST COLOUR FOR YOUR HOME
The floor forms the foundation for your interior style. The colour can be the standout feature, or it can complement the existing tones in the room, allowing other elements to dominate. Light colours will increase the sense of space in a room, while dark colours provide depth, interest and contrast.
Timber floors provide a wide variety of colours and tones including on-trend cool neutrals like Habitat in 'Storm' or Village in 'Kensington'. Equally popular are warm, rich, and golden colours such as, Settlers Run in Blue Gum, Brushed Spotted Gum and Brushed Blackbutt. Popular colours include Spotted Gum, Blackbutt and a variety of natural, as well as light and dark grey European Oak timbers.
TIMBER FLOORING COSTS
Within all Carpet Court flooring collections are a range of brands and products to suit a wide variety of budgets.
While engineered timber flooring generally attract a higher price tag than other timberlook flooring types such as laminate flooring, vinyl tiles and vinyl planks, the total cost of any new floor is attributable to several things.
These include:
The specific brand and flooring product.
The size of the area you are covering.
The underlay chosen (if required).
Additions such as underfloor heating.
The type of installation method.
Subfloor preparation required.
Floating floors are an attractive budget option for those able to choose a DIY installation method, but even with professional installation floating floors are quick to install so they are a more affordable option for many budgets.
The expert team at your local Carpet Court showroom are happy to demonstrate flooring products that best suit your budget, or you can obtain a free measure and quote to re-floor a specific space.
PREPARING FOR A NEW TIMBER FLOOR
Preparation of the subfloor is important when laying engineered timber floors.
Engineered wood floors are commonly laid using the floating floor method, meaning they can be laid in a 'floating' click-and-lock-together style over the substrate and underlay, to save on costs.
Speak with the team at your local Carpet Court store for expert advice on the best way to prepare for your new floors. Our expert installers will do all the preparation work for you, and if you're tackling a DIY project, we are happy to advise.
INSTALLING YOUR NEW FLOORS
Your options for installing timber flooring include DIY or using our professional installers.
As with any home project, substrate preparation is an important phase helping to ensure a satisfactory result. Carpet Court's experienced and knowledgeable installers can not only do the preparation and installation, but they can provide a quote for the removal and replacement of your furniture, and the removal of your old flooring too!
MAINTAINING AND CLEANING TIMBER FLOORS
Regardless of whether you choose engineered timber floors, parquetry floors or solid timber flooring for your home, your stunning new floors will need regular cleaning and maintenance to retain their good looks:
Sweep regularly with a soft broom or a microfibre mop.
Vacuum often using a hardwood floor attachment.
Occasional wet mopping with a damp - not wet - mop in accordance with the manufacturer's guide.
Prompt spot cleaning of spills in accordance with the manufacturer's care guide.
See our Cleaning Guide for more tips on how to keep your wood floors looking beautiful.
LEARN MORE
Choosing the right flooring is an important decision and one that you will live with for years. Your floor or carpet is the very foundation of your interior space and often sets the tone for how the room feels.