Carpet simply never goes out of fashion. It is a timeless, versatile, long-wearing product which suits all types of décor. As Australia's largest flooring retailer, Carpet Court have a huge range of carpets in different colours, fibres and types of pile, all capable of giving your floors a new lease of life. To get the most out of your new carpet, it is important to choose the right product for your home, lifestyle and budget. Many different carpets offer a number of benefits, so consider their different properties when selecting carpet for a specific area of your home, be it the bedrooms, living areas or even the hallway.
Items 1-16 of 54 View All
Items 1-16 of 54 View All
What should you consider when choosing carpet for your hallway?
A hallway is always going to be a high traffic area. While crumbs and liquid spills aren't likely to be much of a concern in the hallway, your hallway carpet may we receive a lot of dirty, muddy footwear and possibly even moisture if you live in a wet climate. If muddy shoes are going to be a problem, ensure you consider carpets that are easy to clean and have good soil and stain resistance.
Hallways can be tricky because they are not always rooms which receive a lot of natural light. With this in mind you may want a light-coloured carpet so that entering the house doesn't feel like you are walking into a cave!
Conversely, hallways are rooms which can receive a lot of dirt – so you don't want a carpet too light in colour because it will show soiling and stains. Having mats made with the offcuts of your new carpet can be a way to protect your hallway carpet from dirty footprints.
Increasing the natural light in the hallway with skylights or glass in or around your door may lighten the room enough to lay a dark carpet.
Chances are your hallway carpet is going to flow into living rooms or bedrooms, so choose a carpet which will best suit all the areas of the home. Pure wool carpets are naturally resilient, stain, soil and moisture resistant so they can easily adapt to the changing needs of different rooms in the house.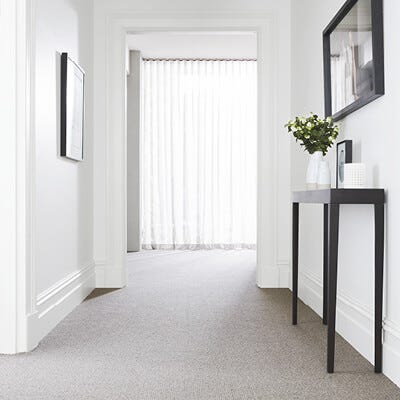 What carpet is the most durable?
The durability of a carpet is generally determined by the type of fibre and the pile. Laid in different areas of the home, carpets can be required to be durable in different ways. For example, a carpet laid in an area which receives a lot of direct sunlight will need to have good fade resistant properties to stand the test of time. Carpets in a family meals area will need excellent stain and moisture resistant capabilities to cope with inevitable spills.
Today's most synthetic carpet fibres are treated with chemicals to increase their soil, stain, crush and fade resistance, making them highly durable. Synthetic fibres are likely to bounce back after being compressed by vacuum cleaning, furniture or foot traffic.
Pure wool carpets have natural durability, a high level of stain and moisture resistance and resiliency. Wool carpets have proven their ability to perform well and look amazing for many years.
What types of carpet are easy to clean?
Technological advancements have meant that synthetic carpets have excellent stain resistant properties which help to delay the time it takes for dirt and spills to penetrate carpet fibres. Generally, a weekly vacuum is sufficient for keeping your carpets clean but of course that depends on how much activity your carpet sees. Annual, professional steam-cleaning will give your carpet a deep and thorough clean and prolong its life.
100% pure wool carpet has a high degree of naturally-occurring stain and moisture resistant qualities so these carpets are easy to clean too. Always follow the manufacturer's instructions for spot or deep cleaning your carpet.
Loop pile carpets can be a little easier to clean because debris, lint and spills tend to sit on top of the loop for a while, whereas cut pile carpets can allow things to penetrate deeper into the carpet pile.
What carpet colours are ideal for your hallway?
The colour of your hallway carpet is mostly likely going to be the same colour as your bedroom or living room carpets so as to ensure a continuous flow of colour throughout the home.
If your hallway carpet is to adjoin another carpet colour or flooring product, ensure the tones fuse well.
The colour of your hallway carpet can create an immediate impression upon entering the home. Choose a colour you love, but which is also an appropriate colour for a high traffic area.
How can you get a quote for your hallway carpet?
You can use our online booking service to arranging a free, in-home measure and quote with a friendly Carpet Court representative. Book online or phone 1300 CARPET to speak with your nearest Carpet Court store today.