Darren has a broad portfolio, having studied fine art & graphic design, originally working in advertising and owning his own graphic design company. After succumbing to his true passion, Darren now operates his own interior design studio and has been a judge on numerous seasons of The Block.
The "pivot" to working from home has shone a light on the importance of having spaces that are conducive to productivity in your home. A considered and designated home office, such as a study or library, allows you to separate your work from your everyday living areas, however not everyone has that luxury.
Here are my top tips to help you create a functional, and of course stylish, home office in a combined space.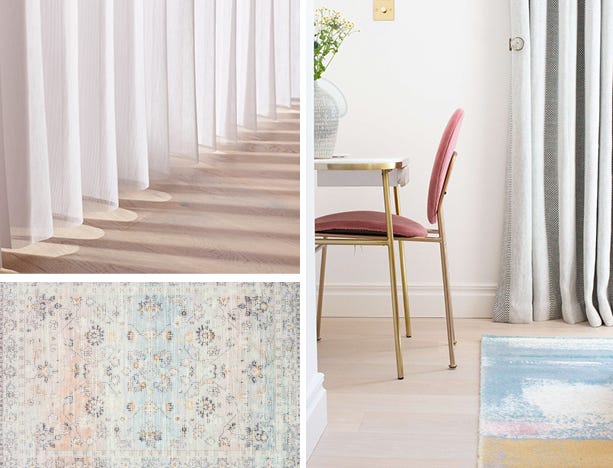 UTILISING A SHARED SPACE
In theory, a designated study would be ideal to remove yourself from the hustle and bustle of family life, particularly when home schooling! However, a guest bedroom with a well proportioned desk, a smart looking and low pile rug such as Broadway, Chrome or Chic, and some clever home office storage hacks can give you the privacy you need when working from home.
The dining table and island bench can also be the ideal shared office space, especially when working on creative or collaborative tasks. Working in an open space can also be a brighter place for you to be, both mentally and physically, giving you better access to natural light, fresh air, and views.

CONTROLLING LIGHT – NATURAL AND ARTIFICIAL
As with any space featuring natural light, depending on the time of day, you will need to consider how much of it is useful and how much of it is a distraction. To shield your computer screen from the afternoon glare, Veri Shades® offer a stylish and practical solution.
If you're creating a home office in a dark space with limited natural light, utilise portable lamps or your kitchen pendants to makeshift task lighting.
OPTIMISE A LARGE SPACE
A bigger space to spread out your samples, documents, and equipment can also be very beneficial, so a dining table or island bench can provide brilliant, multi-functional opportunities for dual purpose use.

CREATING A FUNCTIONAL SHARED WORKSPACE THROUGH STORAGE
The key to optimising a dual function workspace is to have a secondary area that can store your work equipment at the end of the business day. This means you can swiftly relocate your makeshift office elsewhere in the home so that you don't end up dining around your work.
Creating an area to store your work belongings at the end of the day will also save you from blurring the boundary between work and home, helping you to switch off at the end of the day. It could also save you from accidently spilling your dinner all over your important files!

ERGONOMIC SEATING
Proper seating is important in any working-from-home instance - your dining table being no exception. An ergonomically designed chair that can easily be moved into another room, should you want to dine formally at your dining table, will also help distinguish between work and home life.
MANAGING ACOUSTICS
Music is a wonderful addition to any workplace, and it can provide a terrific buffer to the noise from everyday life, such as TVs, family conversations, cooking or other members of your family or household also working from home.
One of the best ways to have acoustic privacy and your own selection of music playing is to invest in high quality noise cancelling headphones. Apple Airpods Max can block out any distracting noise, enabling you to get work done without having to constantly nag your family or household members to keep the noise down.
FEELING INSPIRATION?
View more of our Seasonal Trends articles or check out our Influencers Collaborations for more interior ideas and design tips.