Jeyda Osman and Matt James from the M.J.Harris Group talk through their Phoenix Street Renovation.

Provide some insight into the property that you renovated, what was it like prior to the renovation?
A: The property that we had recently renovated was a classic block-fronted Victorian terrace home that had some minor updates over the years, including a 70's style laminate orange kitchen. Some older features, like the fireplaces, remained, but it was otherwise looking unloved. It only had one bathroom that you would have to walk right to the back of the home during the night to use. The laundry wasn't accessible from the inside of the home, you'd have to walk out the back door to get there. Our clients purchased the home knowing its potential and how much better it would be with a functional renovation.


Where did you (or the client) draw inspiration?
A: We had an instant connection with Paul and Steph. Matt and I, as designers, were there to solve their frustrations with the current layout and bring their mood board to life. It's great when the clients do create mood boards so we can get a sense for what they love. We could instantly see their appreciation for Victorian design elements and the monochromatic colour palette they had in mind.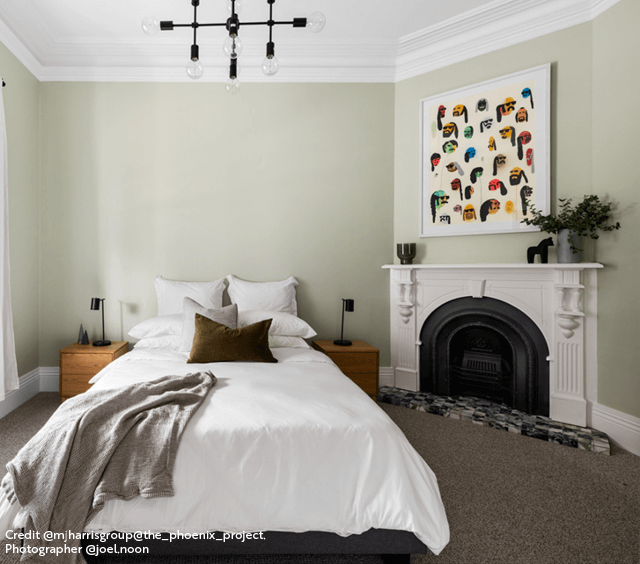 How important is planning when it comes to a renovation?
A: Planning is always extremely important whilst renovating. When the renovation began, we were in lockdown due to COVID-19, so scheduling was a little different (and let's be honest, challenging!). In renovations, equally important to planning is the ability to problem solve and find solutions when things don't go exactly to 'plan'. There are always unknowns behind the walls and with supply of materials, so it's important to have plans, loosely held, because it's the overall vision for the project that matters the most.


Describe the style of the house.
A: The style of the home is a modern blend of Victorian and Contemporary.


What design considerations did you make during the planning process? What were you trying to achieve?
A: Some design considerations were removing the existing living room, to allocate space for two bathrooms. The previous kitchen didn't have a pantry so when going through the design process we flipped the kitchen location to the other side of the room. This was going to be more functional and create a better flow for the space.
Did the client have a specific brief?
A: Our client's specific brief was to have an ensuite – that was a must! Open plan living, with a monochromatic scheme throughout, and they wanted the end result to feel high end.

Why did you choose to use Carpet Court's Engineered Flooring: Village 'Notting Hill' for the flooring/room(s)? Why this colour? Why this timber?
A: When we were originally selecting flooring options for our clients they wanted to go for a lighter board. However, I believed that a darker board would be more suitable for the design and aesthetic we were trying to achieve. Carpet Court were amazing and allowed me to borrow some large samples to take to the clients. As soon as I showed our clients Carpet Court's Village 'Notting Hill' option they loved it, as it added depth and character to the home. It is also super easy to clean and care for.


For the bedrooms, why did you choose to use Carpet Court's Quinn Street in Raven? Why this particular colour? Why this fibre?
A: The clients wanted to stick with natural tones for the carpet with some texture towards it. We decided to go with Carpet Court's Quinn Street in the shade 'Raven' as it had beautiful neutral tones throughout it. It resembled wool without the price tag of real wool, and it is a lot easier to clean.
When it came to flooring, what was the client's brief? Were there particular requirements/why did they choose these flooring options? (e.g. durability, softness underfoot, classic)
A: The clients brief for flooring was durability and easy to clean, something with character but comfortable to walk on.


How long did the flooring installation process take with Carpet Court? Did you have to undertake any preparation before the install -please detail?
A: Carpet Court were amazing at communicating and arranging a day that worked around our renovations. Due to us being on and off in lockdown, they worked with our delays and were happy to reschedule dates for us.

What are your top 5 tips for undertaking a renovation? What advice would you give someone about to undertake a renovation?

1 Expect delays –
Allowing additional time and budget for your renovation will save a lot of stress! Unpredicted items pop up in every job, so try to enjoy the problem-solving elements of a renovation and your overall experience will be much better.
2 Invest in the important stuff –
Investing in the things that are going to benefit your quality of living is always important. Sometimes it's more important to invest in a functional kitchen design, as the items in the home that will be there long term are harder to change, rather than an expensive pendant light.
3 Communication –
Communication is extremely important in a renovation - if you have questions or concerns it's always better to ask them early. We love hearing from our clients and want you to enjoy your space.
4 Relationships –
Having a good relationship with your trades and suppliers is super important, particularly with your schedule. It always helps when all your trades are under one roof.
5 Be open –
Be open to ideas you would never consider. Sometimes the things you aren't originally drawn to end up being your favourite part of the renovation!


How did you use artwork to elevate your space?
A: Our clients already had all their amazing artwork prior to the renovation. As we made the colour palette quite monochromatic, all their different pieces worked well and really elevated the home.
NEED MORE INSPIRATION?
Our collaborators take you through their renovation journey.