The secret to buying the best carpet is knowing which carpet is right for the environment in which it is being laid. It may be that the finest pure wool carpet may be the best choice for the formal lounge of an executive home in Adelaide, but not the best carpet for the front hallway or family room of a busy home with young children and pets in Darwin.
Items 1-16 of 69 View All
Items 1-16 of 69 View All
How to buy the best carpets?
Given Darwin's highly humid climate the best carpets may be wool or synthetic fibre carpets treated with high resistance to mould and mildew.
At Carpet Court you will find the stores are locally owned and operated, so the staff can give you expert advice on choosing flooring products and quality carpets which are best suited to the extreme weather conditions within your location.
Carpets are manufactured using synthetic, wool or nylon fibres designed using a plush, twist or loop pile construction. With differing constructions comes a variety of benefits, so when choosing the best carpet be sure to consider the design, construction, manufacturing treatments and colours in relation to your needs. The expert team at your local Carpet Court store can provide knowledgeable advice in this area.
Carpet Court have a huge range of quality carpets which are suitable for a range of conditions. To help you make that difficult decision they are classified on the website as functional, natural, textured, performance, ultimate soft or premium soft carpet designs, which are manufactured to suit a range of requirements.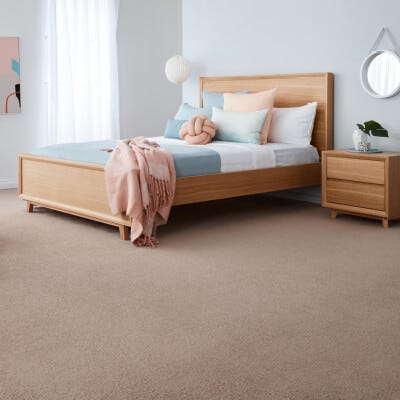 How often should you replace carpet?
If they are maintained and well cared for, the best carpets last for many years which is why it is important to choose wisely in the first place. Your carpets should be replaced when they become worn as they can create a trip hazard within the home or workplace. Carpet on stairs should definitely be replaced before it becomes dangerously worn.
How much is carpet installation in Darwin?
The cost of carpet installation is determined by the size of the area you need carpeted. Carpet Court can provide free quotes to supply and install carpet in your Darwin home or business premises. Our huge range of carpet products are suitable not only for homes, but also for commercial premises such as retail, hospitality, educational and medical institutions as well office environments. Speak to your local store about carpet prices and the cost of installation in any of these areas.
Why choose Carpet Court for carpets in Darwin?
Carpet Court may be the largest flooring retailer in Australia with over 200 stores Australia-wide, but each store is locally owned and operated so they understand the unique environment and climate which exists locally.
While you benefit from that local knowledge and expertise, Carpet Court also have the bulk buying power of a large national company. They are able to offer fabulous savings and excellent prices to save you money.
When you visit your local Carpet Court showroom you will find the best carpets and a huge range of flooring products to choose from. As is often the case, when you opt for new carpets you find that the remaining components in the room begin to look shabby next to your newly laid carpets. When you shop at Carpet Court you can also browse their range of rugs, trendy new wall panels and fantastic blinds to give your home a fabulously fresh new look.
New Carpet Court stores with a huge range of quality carpet designs are popping up around Australia all the time. To keep up to date and find the nearest Carpet Court store to you in Darwin, simply use our store locator and enter your postcode or suburb to see the stores in your vicinity.