Wool carpets bring so much more to your home than simply being a visibly luxurious flooring solution. As a renewable resource, 100% pure, natural wool remains the preferred choice for many people when selecting a flooring product due to its longevity and style. For generations, luxurious wool carpet has stood the test of time. While innovative synthetic fibres are strong competitors in terms of performance, wool remains the most elegant, beautifully tactile, highly insulative and durable floor covering for Australian family homes.
What are the benefits of wool fibre carpet?
100% pure wool carpet is an outstanding floor covering when it comes to supreme softness and an exceptionally luxurious feel underfoot. It is deliciously warm in winter and highly resilient while being aesthetically pleasing. Just as we choose a snuggly wool jumper to keep ourselves warm on a cold day, wool carpet is a fabulous insulator for your home, helping to keep those energy bills to a minimum.
The natural waxy film on sheep's wool makes it repel moisture, which is why wool carpet is ideal for family homes where spills and soiling is inevitable. Along with wool's antibacterial and antimicrobial properties, the natural fatty acids found in wool inhibit static and the growth of mould and mildew. As a renewable resource wool carpet is environmentally friendly and is also a natural flame retardant.
During those early developmental years of your children's lives, pure wool carpet is a safe, soft and comfortable floor for babies and children to commence crawling and walking on.
The durability of a wool fibre carpet is brought about by a number of factors.
The thin, waxy coating found naturally occurring in sheep's wool offers stain resistance, meaning that spills will remain on the surface for some time, rather than seeping down amongst the fibres. As this makes a wool carpet easy to clean, it is less likely to incur hard-to-shift stains which detract from the carpet's appearance.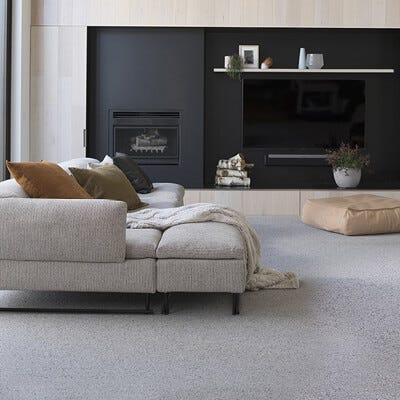 But a well-constructed, top quality wool carpet relies not only on the natural strength of sheep's wool for its resilience, but on carpet pile construction which also make it difficult for spills and stains to penetrate. This is particularly true of a loop pile construction. Wool carpets manufactured with a textured loop pile have good moisture repellent properties while also providing benefits in terms of crush resistance. Cut pile wool carpets can also be good in this regard, as these carpets do not easily retain footprints or indentations and look amazing for many years.
A combination of these factors means that a pure wool carpet can withstand the daily rigours of family life and continue to provide luxurious comfort and superior performance well into the future.
Are wool carpets made from natural fibres?
It is possible to find wool blend carpets which are made from a combination of wool and synthetic fibres, but carpets made from 100% pure wool fibres are wholly natural. These carpet fibres are made from 100% sheep's wool, which has many beautiful properties including natural warmth, softness and crush resistance along with stain and moisture repelling abilities.
What makes wool carpets ideal for all climates?
Pure wool is a highly effective insulator against cold temperatures, as well as being supremely soft and comfortable underfoot. Natural antibacterial and antimicrobial properties along with fatty acids are found in sheep's wool which inhibit the growth of mould and mildew. This means that wool carpet is not only an ideal floor covering for cold climates but a suitable product for use in humid or damp climates too.
Wool is a natural flame retardant so from a safety perspective it is ideal in family homes in both extremely hot and cold climates.
Contact your nearest Carpet Court store today for a free in-home measure and quote.
Are wool carpets durable?
Wool carpets naturally repel dirt, stains and moisture.
Twist pile wool carpets also have excellent strength and resistance to foot traffic and furniture.
Carpet Court offer a wide range of durable carpets including wool, synthetic and nylon carpets.
Are wool carpets better than synthetic?
Synthetic carpets are resistant to dirt, stains and fading over time.
Wool carpets offer natural insulation, warmth, comfort, and are also resistant to wear and tear.
Carpet Court offer a wide range of durable carpets including wool and synthetic carpets.
How do I care for wool carpets?
Once your wool carpets have been installed you should always follow the manufacturer's care and maintenance guide to ensure the prolonged beauty of pure wool carpets.
We recommend regular vacuuming and spot cleaning for spills, along with professional cleaning once or twice a year. To treat carpet stains on wool carpet, consult our Care & Cleaning Guide for handy tips.