With the advent of family-friendly work policies in recent years, it is becoming increasingly common to have a designated home office. As this is a room in which we may spend many hours per day, comfort and practicality are important factors when it comes to furnishing and decorating a home office. Carpet is an ideal flooring product in a study or home office, providing many benefits and comforts. But which is the best type of carpet to have in your home office?
Items 1-16 of 56 View All
Items 1-16 of 56 View All
What should you consider when choosing carpet for your office room?
If your home office is located in a similar position to the bedrooms in your home, chances are you will lay the same carpet as in your hallway and bedrooms so that the floor has continuity throughout your home.
A carpet you would choose for your bedrooms is suitable for your home office. A bedroom carpet wants to deliver luxurious cushioning underfoot and be constructed from fibres and pile with excellent crush resistance and good insulative properties. Your office room is no different, as it may contain heavy furniture such as a desk and a bookcase and also an office chair possibly on castors. Choose a carpet either with good resiliency like a twist pile which is strong and will bounce back, or one which doesn't show indents and impressions, such as a loop pile construction.
Our home office or study may be a place in which we relax and read or surf the internet, so a well-insulated, soft carpet is a must in this room.
Why is carpet a great choice for your home office?
Carpet is a great choice for any room in the house, except the wet areas and kitchen. It is ideal for a home office because it is comfortable, warm and practical.
Unless you bring clients into your home office, it is most likely not a high traffic room, so high levels of soil and stain resistance may not be required. Consequently, you have plenty of scope to choose a carpet which looks and feels right and creates the sort of ambience you want in your home office.
If yours is a serious home office with high end furniture and a sense of dignified comfort, a pure wool carpet in either a cut or loop pile would look beautiful and provide the elegance and sophistication you require. Carpet can help to set the mood in a room, and in a home office where focus, motivation and drive are paramount a quality carpet can help to set the right mood.
If your home office décor is more in keeping with the chic and contemporary style of the rest of your house, then an on-trend synthetic carpet will work beautifully. Imagine the Expanse carpet collection in one of eight on trend shades perfectly complementing the interior design of your home office. In a textured loop style which won't show impressions from chairs or heavy furniture, this carpet is ideal for modern family lifestyles and home offices.
What types of carpet are easy to clean?
Technological advancements in recent years have meant that most carpets are now treated with high performing stain, soil and moisture resistant products which makes them easy to clean.
In a home office which doesn't see a lot of foot traffic, a weekly vacuum would be sufficient to keep your carpet clean and looking as good as new. A professional steam-clean once a year is a great way to give your carpet a thorough, deep clean right down into the depths of the fibres.
Cleaning spills promptly in accordance with the manufacturer's instructions is the best way to keep your carpet in tiptop shape and will prolong its life.
Pure wool carpet has stood the test of time and proven that a high degree of naturally occurring stain, soil and moisture resistant properties means they are easy to clean and will last for years.
Loop pile carpets are often easier to clean than cut pile carpets simply because dirt, debris, lint and spills tend to take longer to penetrate deep into the carpet pile.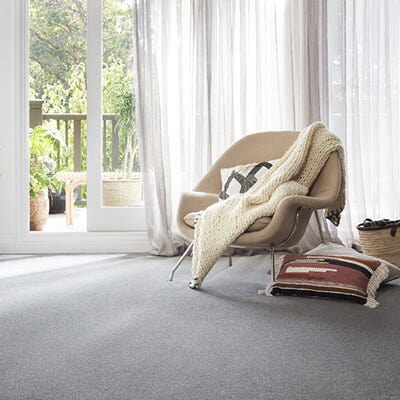 What colours are great for office carpet?
A light, dark, medium or neutral colour carpet will look great in your office, as long as it fuses well with the rest of the carpet or flooring in your home.
Current home styling trends blend tones and textures, especially if they are light or neutral in colour, so focus on choosing the right carpet for the activity that occurs in your home office and which fits with the colour tone of your overall décor.
How can you get a quote for your office carpet?
It is easy to book a free, in-home measure and quote with a friendly Carpet Court representative by using our quick and easy online booking service. Book here online or phone 1300 CARPET to speak with your nearest Carpet Court store representative today.