Heather Nette King is a Melbourne-based interiors stylist and writer for many leading interior titles and newspapers. The hallmarks of her styling are colour and vibrancy, and she writes passionately about peoples' homes and how they live in them.
I like to imagine that the feeling of warmth is not only physical, but also an emotional state, perceived and experienced through the eyes, fingertips, tastebuds, and the heart.

How we decide to layer ourselves to create warmth doesn't just start with our clothing - the interior layers of our home also play a huge part, from the floors to the walls, window furnishings, and decorative accessories. As the cooler months roll around again, look to these tips for creating warmth, comfort and beauty in your home.
RUG IT UP
Chilly mornings are always made more pleasant if the first thing your toes touch is the soft comfort of carpet or a luxe rug. You can visually enhance this sensation by featuring a rug in one of this season's popular warm tones such as terracotta or turmeric, mustard yellow or even a warm neutral like a light beige or creamy white.
Take inspiration from some beautiful warm toned rugs from Carpet Court, such as Parade Aztek or the Silk Essence carpet range in the Balsam colourway.

WARMING WALLS
Painted walls with a colour palette of deep reds or warm earthy tones, like rust or terracotta, will always make a room feel cosier, but these tones won't always work in homes where space and light arelimited. Many rooms – such as dining rooms, studies, bedrooms and even laundries - can be improved by using a warm paint colour. When I paint my walls a warm colour, I'll always ensure that my carpet or rugs are in warm tones too – even if they are a neutral colour. For some stunning warm toned carpets, try the Essentialist or the Hawkesview carpet ranges.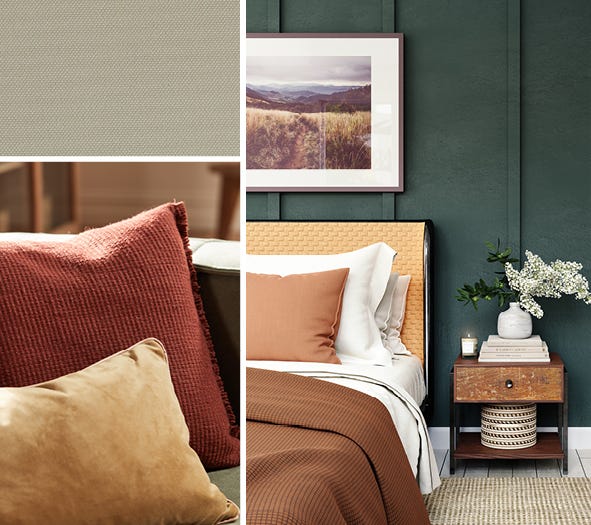 WINDOW WARMTH
As well as providing an extra thermal layer between your inside and out, window coverings work to create a sense of visual cosiness. A combination of blinds and shades is the perfect way to create the feeling of being rugged-up indoors. Gone are the days when blinds, shutters and venetians only came in a stark white. Now, they are available in a wonderful range of colours and textures.
Rather than installing window furnishings in a cool white or cool grey, think about warmer tones such as off-white or a taupe, like the Contemporary Light Filter roller blinds in Angora.

TOASTY TEXTILES
I love to do a 'seasonal switch' makeover with my soft furnishings and textiles where possible. At the end of the summer months, I will swap-out the light-coloured cushions, throw rugs, bedlinen and even bathroom towels for a warmer colour scheme of deep blues, emerald greens, and ruby reds.
If you don't want to use these warm and vibrant colours, you can still create a sense of warmth by paying attention to texture. A few soft, tactile cushions and a throw rug in a warm neutral will increase the toasty-textile factor too.
WARM LIGHT FOR THE WIN
Another brilliant way to create a sense of warmth in your home is by making sure that your light globes are a warm white, rather than a cool white. Though it feels like a small change, the difference it will make to your interior décor is immense. Also, ensure you have a range of different light sources – from table lamps to floor lamps, even candlelight. Flicking on a lamp or two as you snuggle-up on the sofa with a good book or magazine is one of the best feel-good winter hacks I know!
So, as we bid farewell to these lovely longer days until next year, I hope this helps you make the most of the cooler days ahead.
FEELING INSPIRED?
View more of our Seasonal Trends articles or check out Influencer Collaborations for more interior ideas and design tips.