When I updated my beach house last year, I wanted to give the most impact I could with the smallest amount of substantial changes and budget spend possible. One of the first things that I replaced were the window treatments throughout the entire home, and it is still surprising how minor tweaks like these can achieve a substantial change in appearance, appeal and amenity overall.
Updating window treatments carry an opportunity to completely transform a room or an entire house (in my case). Depending on the type, they can be as inexpensive or expensive as fits with your budget, in a variety of styles, colour and fabrics to suit all households and decors.
The previous blinds I had were your standard white plastic venetians, they had served their purpose and given some aesthetic to match the beach vibes of the house. However, I needed the "real deal" and the best possible way to achieve that breezy coastal look by far is the humble plantation shutter.
Plantation or indoor shutters instantly add a sense of luxury to a room by their addition, whether as a standalone window treatment or paired with curtains or drapes. Due to how neatly they fit into windows they give a finished, bespoke and refined look regardless of if your style is Hamptons, Period or Modern. They also have the added benefit of covering the window frame your home might otherwise have – goodbye unappealing aluminium!
You are completely in control of the amount of light and privacy too. By simply pivoting the blades of the shutter you can filter light from full to near block out, or for privacy pivot to prevent the outside looking in. They can be partially pivoted, closed on just the bottom and open on the top, there are many variations you can explore to achieve the right balance of light and privacy.
If you're lucky enough to have a stunning view, shutters can be hinged to open out, however if you want that view completely unobstructed, perhaps opt for a different window covering like Veri Shades®, sheers, roller blinds or a combination.
Shutters are great as they can offer a sense of security with their nature, providing a physical barrier to give you a sense of peace of mind that a sheer curtain simply cannot deliver. This is by no means a replacement for a formal security solution but the feeling of having something more substantial between you and the outside world can't be underestimated.
So, as a robust, adjustable and elegant window treatment, amongst all the brilliant options available in store* at Carpet Court, the plantation shutter has got to be my favourite.
*Selected stores only. Please check our store locator for stores that sell and install Shutters and blinds.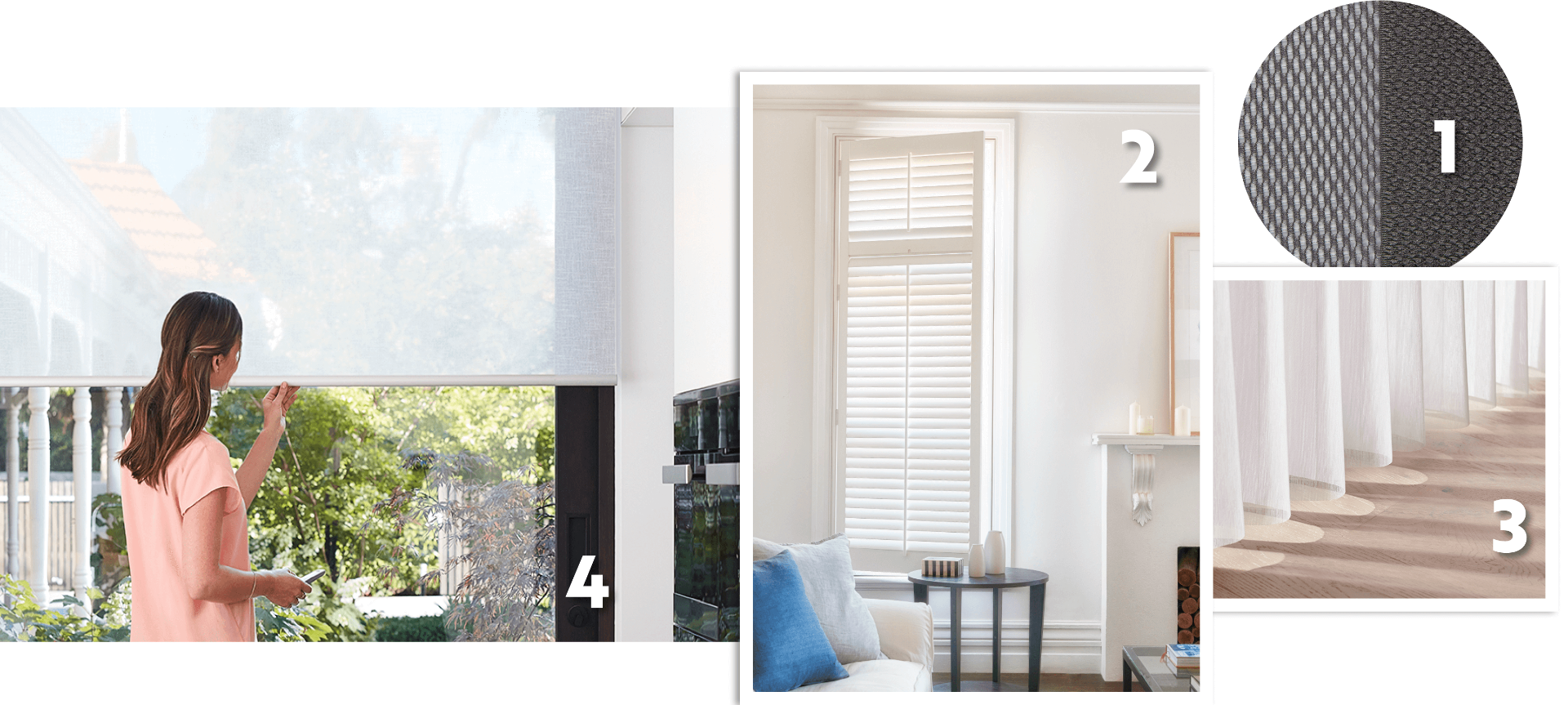 Get the Carpet Court Look
1. Veri Shades® Net in State
2. Shutters Indoor Plantation Antique White 140
3. Veri Shades® Net in White
4. Roller Blinds Husk II in Natural