Carpet is a sophisticated, elegant and comfortable flooring choice for any home. There are several practical benefits associated with carpet such as the ability to provide warmth and insulation, minimizing noise and providing a softer surface underfoot. Carpet also presents as a luxurious and timeless flooring solution with the ability to transform the appearance of a room and to stand the test of time.
Carpet Court's vast range of carpets in different styles, colours and fibres allows you to create the specific home style you seek, from traditionally classic or comfortable country to chic and modern.
Items 1-16 of 57 View All
Items 1-16 of 57 View All
What are the practical benefits of light coloured floors?
Light colours reflect natural light rather than absorb it, which helps to make rooms appear larger, brighter and more inviting. It means lighter coloured carpets are ideal for smaller spaces, particularly those where natural light may be in short supply.
Pairing light coloured carpets with paler walls can also help to take this effect to the next level, completely opening the space up to make a room appear bright and airy.
Better suited to areas with lower foot traffic, light coloured carpets work extremely well in master bedrooms and studies, where they're more likely to stay looking clean.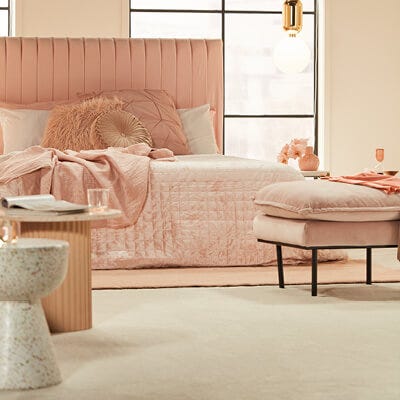 What are the styling benefits of light coloured carpets?
Because they provide a neutral base for the room, lighter coloured carpets complement a range of colour palettes and interior styles. They also allow bolder, statement pieces of furniture to stand out against the neutral backdrop.

Lighter tones, such as beiges and creams, also bring a zen-like feel to a space, making them ideal for installation in master bedrooms and studies, where it's important to achieve a sense of calm.
How do I care for light coloured carpets?
When it comes to cleaning lighter coloured carpets, prevention is better than cure, so don't let the maintenance aspect put you off installing them.
Remember to keep your carpet looking fresh for longer by vacuuming weekly and addressing spills or stains as soon as they occur. This is especially important if you own pets with dark coloured fur, as dark colours will stand out against the light carpet.
Opting for synthetic instead of woollen fabrics when picking out a lighter carpet can also help to keep permanent stains at bay. Synthetic carpets such as nylon, don't allow stains to permeate deep into the fibres, allowing stains to be more easily removed.
Treating light coloured carpets to a thorough steam clean at least once a year will also increase their longevity. Steam cleaning penetrates the carpet fibres, getting rid of dirt, bacteria and other toxins that can't be removed with a regular vacuum to leave your floor looking almost as good as new.
Layering rugs over darker carpets can also help to minimise fading and wear and tear from foot traffic in busy areas, such as hallways and living spaces. Placing a mat outside the home will also help to keep your carpets from collecting dirt and dust.
Where can I get some style inspiration?
To see how lighter coloured carpets could work within your home, try using Carpet Court's Style Visualiser tool, which will allow you to see your chosen style in situ. The Style Visualiser uses 3D technology for a unique way to try before you buy, so you can have total confidence in your decision. You can also pop in-store to discuss your practical and styling preferences with one of our friendly Carpet Court staff, who will be able to recommend flooring styles, colours and materials to suit your individual needs.
To find your nearest store, use our online store locater or phone 1300 CARPET.