Our kids are the most precious item in our home, so naturally we want to choose the best and safest carpet for their rooms. It can be challenging to prioritise criteria such as stain and soil resistance for those inevitable accidents, warmth and insulative properties to ensure they are snug on a winter's night and softness for little hands and knees during those early years. Let's see if we can make it easier for you to find the best carpet for your kids' rooms.
Items 1-16 of 54 View All
Items 1-16 of 54 View All
What should you consider when choosing carpet for your kid's room?
There are five main carpet fibres to choose from: wool, nylon, polyester, polypropylene or triexta. The type of fibre is a major factor in a carpet's soil, stain and fade resistance abilities along with its comfort, durability and ease of cleaning.
Wool is usually the most expensive fibre but it is also the best insulator and is hardwearing with supreme longevity. Wool is naturally stain and soil resistant and is also a natural fire-retardant which is good for family homes. Wool can be harder to clean than synthetic carpets and can harbour common triggers to asthma and allergies such as dust mites.
Polypropylene is extremely durable but offers little comfort, so it won't suit young children's rooms and is not commonly used in homes except for rental properties.
Nylon and polyester are hard-wearing, easy to clean and can feel as soft underfoot as a luxurious wool carpet. They are popular and affordable solutions for kids' rooms.
Triexta is an innovative synthetic and natural fibre blended carpet with excellent soil and stain resistance, good durability, superior UV and fade resistance and is affordable for families. Triexta is ideal for children's bedrooms.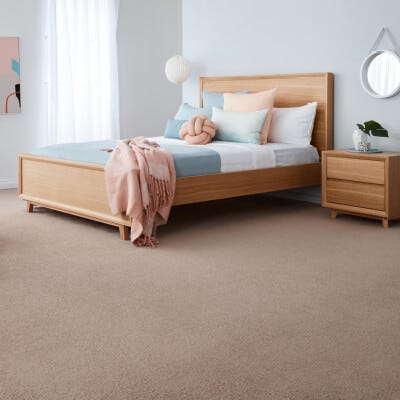 What is the best carpet for a kid's room?
If asthma and allergies are not an issue, you can't go past a pure wool carpet for durability, insulation and comfort. It is a natural fibre, which is preferable to a synthetic fibre for some people. If it is vacuumed regularly and spot cleaned promptly wool is easy to keep clean and is durable when subjected to the correct professional steam cleaning processes.
Wool and synthetic blended carpets offer the best of both worlds, with the natural softness and insulative properties of wool blending with the superior stain resistance and enhanced durability of a synthetic nylon carpet. Blended carpets are a more affordable option than pure wool carpets, and are ideal for kids rooms.
In a synthetic and natural fibre blend, triexta carpets such as the stunning Hideaway Lodge collection provide all the benefits of a renewably sourced, natural biopolymer product along with the extreme durability of a synthetic fibre.
What types of carpet are stain resistant?
Today's synthetic or blended carpets are treated with high performing stain, soil and moisture resistant products which makes them easy to clean and stain resistant.
100% pure wool carpets have proven over time that they have a high degree of naturally-occurring stain, soil and moisture resistance which makes them easy to clean, thereby reducing the chance of staining. Pure wool carpets will continue to perform and look amazing for many years.
Following the manufacturer's instructions and cleaning up spills promptly is the best way to ensure stains don't occur. Significant stains are best treated by professional carpet cleaners.
If you expect a high level of accidental soiling or staining in your kids' bedrooms, you might want to consider a loop pile carpet. They are often more stain resistant than cut pile carpets because dirt and spills tend to take longer to penetrate into the depths of cut pile carpets.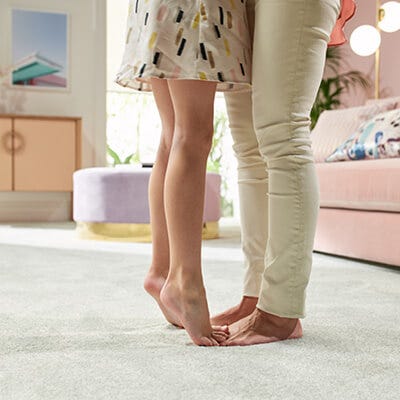 What types of carpet are soft?
The softest carpet pile for young children to sit, crawl or play on is a cut pile. Cut pile fibres are then either finished in a 'plush' or 'twist' format, with twist being the most resilient and plush being the most luxurious.
The disadvantage of cut pile is that it is more likely to show indents or impressions we sometimes call 'tracking.' This isn't as much of a problem in a bedroom as it is in a living area, but it is something to consider if you intend to have the same carpet in your hallway or living rooms.
Loop pile carpet is generally harder wearing than cut pile carpet but it is definitely not as soft. For those early years when young children's delicate skin makes a lot of contact with the floor, a cut pile carpet is the most forgiving on knees, hands and elbows.
What colours are great for kids rooms?
If your children will be playing as well as sleeping in their rooms, a neutral, mid-tone colour is probably the safest bet given the inevitable accidents and soiling. A neutral colour allows you to add pops of colour into the room with fun accessories such as cushions, pillows, mobiles, wall hangings, lampshades or art.
Hideawy Lodge offers an amazing range of twenty stunning colours to choose from in a selection of light, dark, mid-tone, neutral and coloured tones.